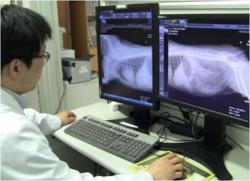 Seoul, Korea (PRWEB) June 17, 2011
From now on, INFINITT PACS benefits will extend not only to humans but also for animals. On May 20th, INFINITT Healthcare, the No. 1 developer and provider of image and information management technologies in Korea, completed the installation of INFINITT PACS at Seoul National University-College of Veterinary Medicine. Unlike the PACS market in general hospitals, the implementation rate of PACS in veterinary hospitals in Korea is very low and the infrastructure for most veterinary hospitals to support a digital environment is poor.
With many veterinary hospitals still using film, it takes longer to read studies and there are delays and bottlenecks in the delivery of reports. Therefore, veterinary hospitals and clinics realize the importance of implementing PACS for both clinics and the animals in need of care.
Chang Jin Cha, an executive director of INFINITT Healthcare's domestic business department, said, "Recently, the companion animal business in Korea is growing: and there are over 3000 veterinary hospitals and their treatment environment is getting close to hospitals in advanced countries like USA, Japan, etc. However, the PACS implementation rate is still poor in Korea, which means longer report turnaround times and limited access to images.
"Web-based access to images and reports through PACS would promote the expansion of the companion animal market," he pointed out.
In an interview with Dr. Min Chul Choi from Veterinary Radiology Department of Seoul National University, Dr. Choi remarked, "There are several PACS providers but I chose the INFINITT system because it is easy to use, offers a variety of functions like 3D visualization and is backed by reliable customer service."
"They made me satisfied," he also said, "Using the PACS solution during the X-ray examination is helping to save taking repeat images. It's very applicable to veterinary hospitals to save time and reduce unnecessary steps in the process."
About INFINITT
INFINITT is an enterprise imaging and information management solution and service provider based in Seoul, South Korea, with more than a decade of experience in the PACS industry. INFINITT offers a true single database RIS/PACS/3D solution, designed for unbeatable value, scalability, flexibility, and ease of integration. INFINITT has been expanding its RIS/PACS capabilities with Advanced Visualization and analysis tools for clinical specialties such as Cardiology, Digital Mammography, CT Colonoscopy, Lung CAD and Fusion Imaging. INFINITT's proven PACS software is in more than 2,000 hospitals and institutes in 25 countries worldwide.
For more information, visit the INFINITT website at http://www.infinitt.com.
###