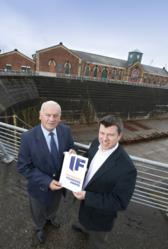 The Award is a perfect opportunity to celebrate successful innovators with the hope that we can inspire more like them to come forward to realise their full potential.
Belfast, Northern Ireland (PRWEB UK) 19 June 2011
'Innovation Founders' from Northern Ireland are to be honoured for the first time as part of the annual NISP CONNECT 25K Awards.
The 'Innovation Founders Award' has been developed by NISP CONNECT http://www.nisp.co.uk , an independent non-profit organisation tasked with fostering entrepreneurship, to recognise Northern Ireland's most successful science and technology entrepreneurs who have founded successful companies here. They have launched an open call for nominations of those who's innovative ideas and positive contribution to the community have helped put Northern Ireland innovation on the map.
The NISP CONNECT 25K Awards, sponsored by the Bank of Ireland UK, QUB University of Ulster and AFBI (Agri Food and Biosciences Institute), is NISP CONNECT's flagship event and is designed to identify, qualify, prepare and present the best knowledge-based ideas with the most commercial potential from the publicly funded research base in Northern Ireland. The Award winner will be guest of honour at the event and also deliver a keynote address before an audience of more than 250 executives, entrepreneurs, investors, service providers, and academics.
The introduction of the 'Innovation Founders Award' is designed to celebrate Northern Ireland's long legacy of innovation on the global stage and will recognise and celebrate the contributions made by the greatest entrepreneurs who have acted on their innovative ideas to establish science or technology based companies in Northern Ireland. Those nominated should demonstrate evidence of entrepreneurial spirit, innovative thinking and determination to succeed. Nominations can be made online via http://www.nisp.co.uk/innovationfounders/
Director of NISP CONNECT, Steve Orr, said: "This year we have decided to add a new dimension to the £25K Awards by honouring our local unsung heroes who have formed successful companies, helped to generate employment and driven the economy forward through innovative thinking. The Award is a perfect opportunity to celebrate successful innovators with the hope that we can inspire more like them to come forward to realise their full potential. It is exactly these individuals who we now need to continue to drive forward our knowledge economy here. For our part we can offer a wide range of support and guidance to help bring their innovations to commercial reality. We hope to do this also with the help of our local 'Innovation Founders'.
"Last year we decided to honour leading local medical engineering entrepreneur, Professor John Anderson, for his contribution and dedication to the promotion of entrepreneurship and innovation in Northern Ireland. Professor Anderson was a key member of the team at the Royal Victoria Hospital that created the world's first defibrillators and recognising the commercial potential he took this life saving technology to market. This showed us the value of recognising and celebrating such innovation founders and we decided to launch a more formal award to do just that. We would now encourage people to nominate individuals who deserve this important recognition."
Clare Guinness, Regional Business Manager, Bank of Ireland UK added: "We are very aware of the importance of positive role models in promoting entrepreneurship and we are delighted that this new award will help draw much needed attention to those innovative individuals who have led the way in the past. This way we can hope to encourage more people like them to take their innovations forward into the commercial sphere and in turn translate this into valuable economic activity for Northern Ireland."
The 'Innovation Founders Award' serves to inspire the future generation and encourage a real boost to entrepreneurial activity in the region. Through the NISP CONNECT network those acknowledged as 'Innovation Founders' will be presented with the opportunity to champion high-growth start-ups, use their expertise to mentor upcoming entrepreneurs and help lead new technology from research green-houses into commercial reality.
To make a nomination visit http://www.nisp.co.uk/innovationfounders/ to complete a short nomination form outlining the reasons for the nomination.
For further information on NISP CONNECT's £25K Awards visit http://www.nispconnect.org/25k or Tel. Dr Elaine O'Neill (Programme Manager) on 028 90737809 or email Elaine(dot)oneill(at)nisp(dot)co(dot)uk.
###