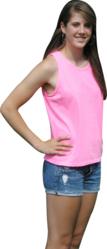 "The neon trend started in a few sororities and once they posted pictures on FaceBook, the product just took off." Scott Marino, President, Panda Apparel Group
Cranford, NJ (PRWEB) June 19, 2011
"The 80's may be in the distant past, but this summer shoppers are channeling the popular trend that once was and has returned with a blinding neon flash."
The vibrant and fluorescent neon colors have been seen on all the runways for Summer 2011. JustNeonTees is capturing a piece of that ever popular market with their tees and tanks. Back in the 80's, teens were the trend setters and that remains the same today. Who knows if it is the buzz of spring break, summer love or sizzling dance clubs, but the hot color craze has made a resurgence and is here to stay.
"College and University fashion trends report fraternities and sororities have gone crazy for Neon! JustNeonTees has had customers calling since January looking for Neon men's tanks and tees. Calling it the 'FaceBook Viral Effect,'" said Scott Marino, president of Panda Apparel. Hr notes that, "The neon trend started in a few sororities and once they posted pictures on FaceBook, the product just took off".
Panda Apparel's Neon Tees label is manufactured with high quality, 100% cotton t-shirts, garment dyed in the USA Offerings include true neon pigments dyed garments in neon green, neon orange, neon pink, neon yellow and neon blue. "There are bright shirts, and then there are true pigment dyed neon's. We offer real neon's, just like in the 80's.", says Donna Marino, Vice President of Panda Apparel. "Our all-cotton t-shirts are comfortable, fun and perfect for everyone. Individuals love them, as do schools, organizations and company teams". The trend is now successfully working its way out to all the boardwalks and resorts of summer. Get those sunglasses ready, its getting brighter and brighter every day!
About the Company
NeonTees and JustNeonTees are divisions of Panda Apparel LLC which carry high quality, 100% cotton fun neon t-shirts. NeonTees.com services wholesale trade accounts. JustNeonTees.com is focused on the retail aspect, offering printed graphic designs and screen printing for small groups and organizations. The mission: to make the world a brighter place, one shirt at a time.
Panda Apparel, LLC was formed in 2007 and is owned and operated by Scott and Donna Marino. The two share over 25 years of experience in the apparel industry and 16 years of online specialty retailing. All of the company's divisions are committed to protecting and preserving the environment. As an international business, Panda Apparel, LLC is committed to the improvement of the worldwide state of human rights and environmental degradation.
###