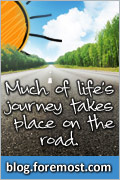 Grand Rapids, MI (PRWEB) June 19, 2011
A tale of two bikers at a motorcycle rally, an employee's story of a free boat, corporate mom's view of kids and some video of auto tune-ups defines the newest addition to the Foremost Insurance Group® social media savvy package; The Foremost blog. http://blog.foremost.com.
"It's not just another corporate blog…it's "THE" corporate blog," says Renee Kolzow, public relations manager for Foremost. "Our blog is packed full of fresh and fun ideas and concepts. The articles are not only informative, but very funny and witty."
The Foremost blog contains articles on products, weather, safety, and personal accounts of many employees, including their own 'On-The-Go-Mom blogger, Safety Crazy blogger and Drive-ing Questions blogger.'
Kolzow says that the blog is a great way for agencies and consumers to connect with the company on a more personal level. "We are offering real stories from our employees that are out there experiencing the lifestyle and products that we offer insurance for."
The blog boasts pictures, videos and welcomes comments and suggestions. Check out the blog at blog.foremost.com and see what all the buzz is about.
To learn more about Foremost products or share feedback, visit http://www.Foremost.com, our blog http://blog.foremost.com, our Facebook page http://www.Facebook.com/ForemostInsurance.
A part of the Farmers Insurance Group of Companies®, Foremost Insurance Group ("Foremost") has been a leader in personal lines insurance since 1952. Foremost is headquartered in Caledonia, Michigan. Farmers is a trade name and may refer to Farmers Group, Inc. or the Farmers Exchanges, as the case may be. Farmers Group, Inc., a management and holding company, along with its subsidiaries, is wholly owned by the Zurich Financial Services Group. The Farmers Exchanges are three reciprocal insurers (Farmers Insurance Exchange, Fire Insurance Exchange and Truck Insurance Exchange), including their subsidiaries and affiliates, owned by their policyholders, and managed by Farmers Group, Inc. and its subsidiaries.
For more information about Farmers, visit http://www.Farmers.com.
Contact: Noelle Kimble
noelle(dot)kimble(at)farmersinsurance(dot)com
(616) 956-4289
# # #