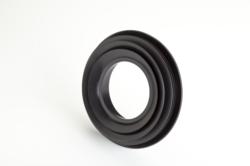 The GBSA Multi-Lip Seal has a total of six sealing lips that keep impurities out of the bearing or gearbox.
Chardon. OH (PRWEB) June 22, 2011
GBSA has developed and tested and a new, multi-staged sealing element designed to keep the bearing area isolated from a formidable variety of contaminants. Called the Multi-Lip Seal, it can be used in any application where an excessive amount of foreign matter can cause bearing failure.
The seal was originally designed for agricultural hub and spindle applications. With excessive amounts of rain during the last several years, wheel bearings (on a disc or seeder) would stop rotating due to the constant emersion of the assembly in water, silt or mud. The emersion during use would allow the water borne contaminates to permeate the bearing housing washing away the grease and other lubricants and depositing solids into the bearing causing it to freeze.
The GBSA Multi-Lip Seal has a total of six sealing lips that keep impurities out of the bearing or gearbox. It is made entirely of nitrile (NBR) and coupled with a counter face made of 4140 steel with a black nitride (salt bath ferritic nitro carburized) finish. The Multi-Lip Seal can be used in applications such as lumber mills, paper mills, steel manufacturing and even mining.
The Multi-Lip Seal was installed in an agricultural hub and spindle assembly and placed in a test chamber filled with Bentonite clay, sand and water. The drive system was designed to rotate the hub at 200-400 RPM and a diaphragm pump that circulated the clay, sand and water slurry at a minimum of 5 GPM onto the hub assembly. Chemtool Alpha 2000 grease was used to lubricate the bearing at regularly scheduled intervals designed to mimic real world maintenance time.
At the conclusion of the 500 hour long test, the spindles were still turning smoothly while the bearings were unharmed and grit free. The grease analysis showed that the Multi-Lip Seal effectively blocked solids introduced by contaminated water. Inspection of the assembly showed minimal wears of the sealing counter face even at a speed of 200RPM. In agricultural circles, a two-foot diameter disk could cover 7,000 miles and a 30-foot wide plow would cover 25,000 acres.
For over thirty years, GBSA has been a leading supplier of molded rubber parts, plastic, ceramic and metal stamping services that are engineered to stand up to even the toughest conditions. Our pledge is to deliver quality parts, on time and on budget.
###