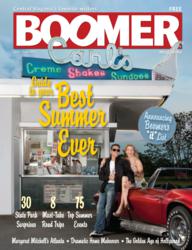 We went looking for the best out-of-the-way places and events especially for boomers.
Richmond, VA (PRWEB) June 21, 2011
Central Virginia's BOOMER Magazine Summer issue is out now, and features an array of exciting things to do, from the hottest concerts in Virginia for boomers to around-the-corner road trips that won't break boomers' budgets for dollars or vacation days.
"We went looking for the best out-of-the-way places and events especially for boomers," BOOMER editor Ray McAllister says of the 22-page feature. "If it wasn't interesting, we threw it in the trash.
For baby boomers who want to get out more this summer, the new issue of BOOMER features recommendations for road trips around Central Virginia. The destinations range from wonders of nature like the Stalacpipe Organ in the Luray Caverns, to old-fashioned hangouts like Carl's Ice Cream in Fredericksburg, Va.
BOOMER also offers Central Virginia boomers a peek at some of the best-kept secrets in Virginia's state parks, like moonlit canoe trips at York River State Park in Williamsburg, Va.
Entertainment-minded boomers can look to the new issue of BOOMER for a comprehensive guide to concerts coming to Central Virginia this summer. There's no shortage of big names on the list, with dates featuring performers such as Bill Cosby and Dolly Parton at the Wolf Trap in Vienna, Jimmy Buffett at Jiffy Lube Live in Bristow, and Elvis Costello at Innsbrook After Hours in Richmond.
A complete list of upcoming Summer concerts and events in Virginia can also be found online on the BOOMER website at http://www.theboomermagazine.com.
In the article "Summertime – and the Reading Is Easy," BOOMER writer Jann Malone takes a look at the best new books. In addition to a Martha Hall Foose cookbook and the latest from Betty White, the titles also include Bossypants, the bestselling autobiography from "30 Rock" mastermind and "Saturday Night Live" alum Tina Fey.
The new issue of BOOMER also features a farewell to a Central Virginia legend. It is surely with a heavy heart that fans of Richmond local news will say goodbye to longtime anchor Gene Cox, who retired from WWBT-NBC12 News this summer. In his 33 years in that role, Cox won viewers over with his old-school style. Cox tells BOOMER writer Martha Steger, "'Gene Cox the anchor' will be gone, and I'm fine with that."
But Richmond is about to welcome another legend. After some courting from Virginia Governor Bob McDonnell, Steven Spielberg chose to film his biopic, Lincoln, in the area. BOOMER writer Erika Wells says the exact location hasn't been announced, but the movie is set for a 2012 release.
In another new article, Bill Bevins spoke with Todd "Parney" Parnell, vice president and chief operating officer of the Richmond Flying Squirrels. Central Virginia's AA affiliate for the World Series Champion San Francisco Giants led the Eastern League in attendance last year. In the June-July issue of BOOMER, Parney discusses the team's connection with the community, having fun on the job, and what it's like to be on the field in nothing but a diaper.
And later in this issue of BOOMER, bestselling author David L. Robbins writes about the excitement that has filled Richmond since the Flying Squirrels took over The Diamond from the Richmond Braves.
Health issues remain a prevalent topic in the new issue of BOOMER, and one article tells the story of a couple with limited hearing getting cochlear implants, which are surgically installed systems that use microphones and electrodes to process sounds. In the article, Meg and Joe Duarte of Centreville, Virginia, tell BOOMER writer Lynn Kirk about how they have learned to enjoy hearing as they have become used to the new sense. Meg Duarte tells Kirk, "It's been a wondrous adventure so far."
For more information about BOOMER Magazine's guide to summer, visit http://www.theboomermagazine.com.
Find the June-July 2011 issue of BOOMER with Fredericksburg's own Carl's Ice Cream on the cover now at Martin's, Kroger and WaWa.
First published in 2007, BOOMER Magazine, a baby boomer's favorite read, can be found in doctors' offices, hospitals, Martin's supermarkets, Kroger grocery stores and WaWa convenience stores – among many other places targeting local Virginia baby boomers.
BOOMER Magazine is published by Ross Publishing, a Richmond, VA-based company which also publishes Seniors Guide Magazine and its correlating website SeniorsGuideOnline.com. Seniors Guide is the best online resource for finding assisted living, retirement communities and senior living options in Indiana, Kentucky, Ohio, North Carolina, and Virginia. Home Care Choice Magazine is another Ross Publishing product that helps caregivers find home care and home nursing care for their favorite senior. The correlating website is HomeCareChoice.com. Ross Publishing began in 1991 and has been publishing helpful, free publications and websites ever since.
###