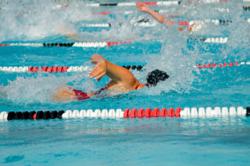 "Parents will appreciate this opportunity to enjoy watching their swimmers race instead of squinting through a viewfinder to follow the action and excitement."
Atlanta, GA (PRWEB) June 20, 2011
Next week over 3,500 swimmers around Atlanta will converge on the Georgia Tech natatorium for what promises to be an exciting conclusion to the Atlanta Swim Association summer league. Atlanta Sports Memories will be right there with them, capturing the action and creating video disks that parents will be sharing with family and friends for years to come.
The Atlanta Swim Association is the third largest summer swim league in the nation, representing 16,000 young swimmers in 86 teams across Atlanta neighborhoods. The league culminates their season later this month with a massive Championship swim meet, and several thousand swimmers will test their skills in the Georgia Tech swimming pools beginning June 30th. The meet is so large that both pools in the facility will be used concurrently to accommodate swimmers across a variety of events.
Atlanta Sports Memories has been granted exclusive on-deck access to provide customzied highlight videos for swimmers and parents. Matt Murphy, Marketing Director for ASA, recently announced the service offering to parents and swimmers. "Parents will appreciate this opportunity to enjoy watching their swimmers race instead of squinting through a viewfinder to follow the action and excitement" said Murphy. "In addition these videos can be shared with families and friends who are not able to be there in person!"
Swim parent Laura Ries, whose son Conrad has used the video services in the past, describes why she anticipates another addition to her video collection. "I didn't know what to expect from the first video. I just thought it would be each race in one static shot. Boy was I wrong!"
Steven Langer, owner of Atlanta Sports Memories, explained further. "Parents are looking for highlights that focus in on THEIR favorite swimmer, not just a broadcast angle encompassing all 10 lanes of the pool. Our goal is to make a compelling highlight video with their swimmer as the center of attention". Having been a sports parent for many years, Langer understands the dilemma facing many parents at sporting events involving their children. "You really want to enjoy the moment and cheer for your kids. It's tough trying to do that at the same time you are managing the camera. You end up with one camera angle, and it's jiggling because you're cheering so hard!"
Atlanta Sports Memories has been granted on-deck access and will be capturing the action from numerous creative angles. "One of our favorite shots is getting the swimmer's start from underneath the starting blocks" said Langer. "It's an explosive moment that cameras don't fully capture from the bleachers. We also enjoy filming the last few minutes right before they step up on the blocks; the cameras really highlight the tension and anticipation that swimmers experience leading up to their Championship event".
While parents enjoy reliving the moments from a nostalgic perspective, swimmers also benefit from watching their stroke technique on video. "Video stroke analysis is the best new tool we have brought to our team. Allowing the athlete to see what they look like when they swim has increased stroke correction time by over 75%" said Murphy, who also coaches the swim team at Marist High School.
Ries was very pleased with the video she received from Atlanta Sports Memories of her son's performance at the Metro Divisional meet held earlier this year in Chamblee. "What a special video celebrating my little swimmer!" she said. "I couldn't wait to show him and every other family and friend I could think of!" Her ten year old son Conrad will be representing their Horseshoe Bend neighborhood team during the second and third days of the ASA Championship meet.
The Atlanta Swim Association league is comprised of close to 100 teams in the Buckhead, Dunwoody, Sandy Springs, Roswell, Alpharetta, John's Creek and Forsyth County areas. Swimmers from ages 5-18 compete each week in inter-neighborhood dual meets for five weeks, culminating in the championship meet at Georgia Tech June 30 – July 2. Learn more about ASA at http://www.atlantaswimming.com/index.asp.
Atlanta Sports Memories was inspired by a lifelong passion for youth sports, and is dedicated to capturing the intensity, thrills, and emotions of athletic achievement. In addition to providing videotaping and video editing services for personal and team-based sports highlight videos, Atlanta Sports Memories also offers video services to support college recruits in their quest for athletic scholarships. Those interested in learning more can visit http://www.AtlantaSportsMemories.com or call 404.590.3348.
###