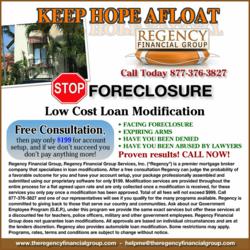 "I am excited to introduce Regency Financial Group to all the listeners in South Florida, they have really helped a lot of struggling homeowners find a solution to their financial problems and help keep their homes," stated Joe Rose
Coral Springs, FL (PRWEB) June 20, 2011
Regency Financial Group (Regency or the Company), a mortgage broker company specializing in loan modifications, announced today that it has signed an endorsement agreement with Joe Rose of 560 WQAM and the Beasley Broadcast Group, Inc.
Joe Rose is a former Miami Dolphins player, who is now a Radio Broadcaster on 560 WQAM, Miami Dolphins Broadcaster and Sports Anchor for NBC-6 Miami, Florida.
"We are thrilled to have Joe Rose join our team," stated James Clavijo, President and Chief Financial Officer of Regency, "he is a fantastic and entertaining Broadcaster and one of the most recognizable on-air talents in the South Florida marketplace. We believe his addition and being a part of the 560 WQAM radio advertisers will bolster our Marketing Campaign in South Florida."
"I am excited to introduce Regency Financial Group to all the listeners in South Florida, they have really helped a lot of struggling homeowners find a solution to their financial problems and help keep their homes," stated Joe Rose, "in addition there is no cost to call and receive a free consultation, everyone hurting and trying to save their homes should call now."
Regency provides low cost loan modifications and now offers Automobile Loan Modifications. The Company just introduced a new pricing structure, under the new structure a home loan modification will only cost $199 for the account setup and software platform license and then only $799 fee that is paid when an approved modification is received from the lender. The total cost is still under $999. The initial consultation to determine if a homeowner qualifies is free.
Regency also introduced a Government Employee Program (G.E.P.) that will offer the same service for home loan modifications but at a discounted price. "We are excited to bring a new program to the public, this program will provide all the hard working teachers, law enforcement officers, military and other government workers our services at a discounted price as we help them save their homes," stated James Clavijo.
About Regency Financial Group
Regency Financial Group is a mortgage broker company specializing in loan modifications. Regency provides an affordable payment plan or upfront discounted fee for account setup and software platform license and processing of loan modifications.
For additional information please visit Regency's website at: http://www.theregencyfinancialgroup.com , or call 877-376-3827 or email helpme(at)theregencyfinancialgroup(dot)com
This press release contains forward-looking statements that reflect Regency's current expectations about its future results, performance, prospects and opportunities. Statements that are not historical facts, such as "anticipates," "believes," "intends," or similar expressions, are forward-looking statements. These statements are subject to a number of risks, uncertainties and other factors that could cause actual events or results in future periods to differ materially from what is expressed in, or implied by, these statements. Unless required by law, Regency assumes no obligation to update or revise any forward-looking statements as a result of new information or future events.
###