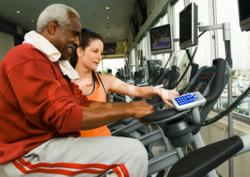 The heart requires work after a heart attack, shows a new study by researchers at the University of Alberta
Calgary, Alberta (PRWEB) June 20, 2011
For stable patients, after a cardiovascular event such as a heart attack, early exercise is the key to the best outcome for your heart. The University of Alberta's research states that within 1 week of their heart attack a patient should really start a rehabilitation program. The heart itself will become better with exercise sooner and, of course, continuing with these tools in a new lifestyle.
In the past, a patient has been told to wait four to six weeks before commencing a cardiac rehabilitation program. Researchers now purport that patients who begin an exercise program one week after their heart attack were found to have the best heart performance. The key of course is to continue with an exercise program.
Heart fitness is essential and understanding what intensity would be safe and effective is key. Calgary cardiac rehabilitation clinic, The Heart Fit Clinic provides clinical fitness assessments to determine safe and effective level of exercises especially for patients after a heart attack or stroke. It is important to have a fitness assessment whether it is a sub-maximal or maximal test so the healthcare team can determine a safe and effective level of exercise.
The Heart Fit Clinic cardiac rehabilitation program will ensure a safe and effective level of exercise. Confidence can be low and anxiety can rise after a heart attack so entering a cardiac rehabilitation exercise program will alleviate this. This is why it is important to understand exactly what are the limits are by determining a safe target heart rate. Starting a cardiac rehabilitation exercise program after a cardiovascular event is vital and will save lives, especially when it is commenced early.
In Canada, only 1 out of every 3 people is referred to cardiac rehabilitation and of that one third only 20% attend. The key is to be referred or have the patients understand that exercise is their best pill.
###