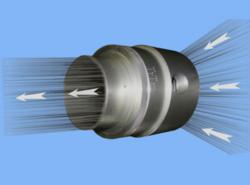 (PRWEB) June 20, 2011
The New Adjustable Air Amplifiers with Gauge Markings from Nex Flow™ indicate with accuracy the actual air gap used when in operation. The gap can be set from 0 to 1.5 mm providing the greatest control of compressed air use.
Air Amplifiers amplify "air flow" significantly by utilizing the "Coanda" effect. A small amount of compressed air exists the small gap which you control with the marked settings. Air is entrained into the amplifier "converting" pressure to high flow with minimal energy loss. Air flow can be amplified up to 16 times at the exit with little energy loss, and very low noise levels.
A high velocity of the flow is maintained to provide excellent energy for blow-off, drying and cooling. Because of the high entrainment, Nex Flow™ Air Amplifiers are ideal for venting of fumes, dust and light materials.
Available in two sizes: 1-1/4" and 2" outlet in anodized aluminum.
Applications include the following:
1. Blow off contamination and dust from surfaces
2. Cooling of hot materials, forgings
3. Wipe wet surfaces
4. Drying all types of shapes
5. Venting of fumes, dust and light material conveying
The Nex Flow™ Air Amplifir has proven to be of high quality, high performance and with low noise levels. Its anodized aluminum body withstands the plant environment longer than often non-anodized competitive models.
See http://www.nexflowair.com or http://www.nex-flow.com for full product details and prices.
Sizing help is just a E-mail away at sales(at)nex-flow.com or by calling Toll Free 1-877-797-2777 in the USA and Canada. International calls use +1-416-410-1313.
NEX FLOW™ AIR PRODUCTS CORP.
###