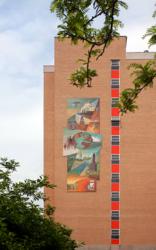 The substantial capital improvements to Ascension Manor ensures this important North Philly apartment community remains as affordable housing long into the future.
Philadelphia, PA (PRWEB) June 17, 2011
What: An "Open House" for the local community and media to tour Ascension Manor, an historic landmark community in North Philadelphia, offering affordable housing to seniors and people with disabilities, that for the past year has been undergoing an $11 million renovation that is transforming the community rooms, common areas, and residential living units. City and HUD officials, as well as representatives from the Ukrainian Catholic Archdiocese, which owns the property, will be available to talk with the press about this important affordable housing preservation effort.
When: Wednesday, June 22, 2011, 10:00 a.m. to Noon
Where: Ascension Manor, 911 N. Franklin St., Philadelphia, PA 19123
Details:
Ascension Manor is an apartment community providing affordable housing to seniors 62 and older and people with disabilities in North Philadelphia. The property is owned by the Ukrainian Catholic Archdiocese, which built it in 1967, so that residents of this traditional Ukrainian neighborhood in North Philadelphia could stay near family, friends, and their church. The community nows serves almost 300 residents of all cultural and ethnic backgrounds. The rehabilitation of the property is being lead by Continental Mortgage Corp., a member of The Michaels Organization and the property is managed by Continental's sister company, Interstate Realty Management.
###