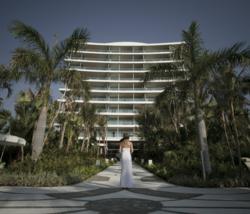 Nuevo Vallarta, Mexico (PRWEB) June 20, 2011
Grupo Vidanta, Mexico's leading developer of luxury resorts, today announced that the Grand Luxxe is partnering with the XVII Festival Gourmet International in which Chef Enrique Garcia has received the honor of participating as one of the festival's premiere guest chefs.
The Festival Gourmet International has maintained a reputation for passion, devotion, and enjoyment, and continues to evolve each year. This year's festival, from November 10th to the 20th and in its 17th tenure, promises to be even more enhanced, honing a special focus on quality reflected in the freshest products to produce the best dishes, created by the most talented hands and served with the utmost elegance at each table. Joining Grupo Vidanta's Chef Enrique Garcia, will be thirty other top-notch guest chefs from all over the world to help carry out the festival legacy.
Chef Garcia is resident chef of Epazote Restaurant, located in the lobby of the Grand Luxxe, where he welcomes patrons from the vast gourmet scene to experience his culinary expertise during this amazing epicurean affair.
Epazote Restaurant, Riviera Nayarit's newest and most lavish brasseries, is the region's best choice for fine dining and authentic Mexican cuisine. Due to its extensive menu of over 50 Tequila brands, the restaurant was honored with "Award T", a distinguished award confirming its excellence in service and the authenticity of its certified Tequila brands. In addition to superb taste and excellent service, Epazote's décor perfectly compliments the Grand Luxxe design concept and provides a one-of-a kind dining experience.
In addition to Epazote, the Grand Luxxe houses many other decadent eateries and splendid attractions. The Grand Luxxe in Nuevo Vallarta is more than just a luxury hotel. Since its doors opened for the first time in early 2010, the Grand Luxxe has served as the destination of choice for discriminating travelers. With twelve-foot ceilings, rooms ten times larger than the average American hotel (2,700+ square feet), Italian furnishings and amenities, and breathtaking views of the Pacific Ocean, the Grand Luxxe set a new standard for luxury hotel accommodations.
Learn more about the upcoming Festival at http://festivalgourmetdemexico.com/epazote.php
Find out what pleasures await at the Grand Luxxe at http://www.grandluxxe.com.
About Grupo Vidanta
Founded by Daniel Chavez Moran in 1974, Grupo Vidanta has evolved for more than 35 years into one of Mexico's leading developers of hotels and resorts, golf courses, vacation ownership, and tourism infrastructure, including Mexico's first privately built and owned international airport at Puerto Peñasco. For American travelers, Grupo Vidanta offers a choice of full-service luxury beach resorts in Mexico's finest beaches, under the Grand Luxxe, Ocean Breeze, Sea Garden, Mayan Palace and The Grand Mayan brands. In the near future, new hospitality brands will include The Bliss, The Grand Bliss and Mansions of the World. Grupo Vidanta's Mayan Island has built and sold over 2,000 second homes. For further information see http://www.grupovidanta.com.
###