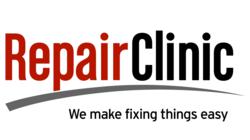 Extending our same-day shipping cut-off time to 9 p.m. allows more customers the opportunity to receive their parts shipped a day sooner
Canton, MI (PRWEB) June 22, 2011
RepairClinic.com® enhances customer satisfaction by offering same-day shipping on all in-stock parts ordered by 9 p.m. EST Monday through Friday. Combined with their low flat-rate shipping charges, ship out guarantee, and their remarkable 365 Days. Period.™ return policy, RepairClinic offers the best customer service policies in the appliance and outdoor power equipment parts industry.
"FedEx® has been our exclusive shipping partner for many years and when we discussed the need to ship parts later in the day they pulled out all the stops to help us meet that goal. Extending our same-day shipping cut-off time to 9 p.m. allows more customers the opportunity to receive their parts shipped a day sooner," said Chris Hall, president. "Our customers couldn't be happier. We couldn't offer this without the commitment from FedEx."
RepairClinic's shipping policy guarantees all in-stock parts ordered will be shipped out on the day shown during checkout. If the order is not shipped on that day, the customer is eligible to get the entire order for free, including the shipping charges! In-stock parts ordered by 9 p.m. EST Monday through Friday will ship the same day, orders placed after 9 p.m. will ship the next business day. Overnight and 2Day® orders placed before 3 p.m. EST on Saturday will also ship the same day.
About RepairClinic.com
RepairClinic.com® is an online retailer of replacement parts for household appliances, vacuum cleaners, lawn mowers, and outdoor power equipment. RepairClinic has an extensive inventory of more than one million parts for over 100 different brands and has an incomparable return policy allowing any part to be returned within 365 days for money back. RepairClinic assists more than 75,000 customers each month with free repair help, including videos, diagrams, and customized repair diagnosis. RepairClinic operates an 86,000 sq. ft facility in Canton, MI, that employs over 100 employees. For more information, please visit http://www.RepairClinic.com.
###