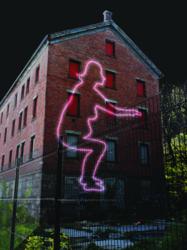 Look for Grace Exhibition Space to come up with creative performances in and around the pier — delighting, amusing, and confusing visitors to the festival.
Staten Island, New York (PRWEB) June 20, 2011
Last Summer, a man traveled across the country from San Francisco, all the way to NYC, to visit the loneliest borough: Staten Island. Why would someone make that trip? He made it for LUMEN, the International Video/Performance Art Festival that took place along Staten Island's under-utilized waterfront. This year, LUMEN will take place on Saturday, June 25, 6pm-Midnight at the former US Coastguard Lighthouse Depot (aka National Lighthouse Museum site), adjacent to the SI Ferry Terminal.
The location for LUMEN boasts a wide open plaza with bright red buoys, a mixture of new and old buildings, and a newly renovated fishing pier, which is where Grace Exhibition Space will be doing their thing all night long. Look for them to come up with creative performances in and around the pier — delighting, amusing, and confusing visitors to the festival. The main stage will feature a video loop lasting approximately 2 hours, featuring short videos by over 30 artists. If you miss the first screening at 8pm, the loop will repeat at 10pm. Art will be projected on walls, trees, and the inside and outside of 5 different buildings.
Video gang + Hz Collective will create an interactive experience by printing large-scale QR-codes that will lead viewers to sound and video work that they've posted online. Those with smart phones and iPads can access the codes and have a more intimate experience with the work. Artist Phil Stearns will be illuminating tree from within their canopies with alternating bursts of light in "The Owls Are Not What They Seem". Visitors will have the opportunity to watch dance and movement performances along the main walkway, follow the site-specific installation by Kathryne Hall along the plaza itself, and can view and purchase work at our pop-up gallery of artist works.
The Staten Island Ferry runs all night and is only a 5-minute walk from the festival. Information booths will be at both sides of the Ferry Terminal, and signs will be posted along the suggested walking route from the Ferry to LUMEN. Take your time and experience work from participating artists: Adriana Varella, Aimee Norwich, Alex Villar, Alexey VS, Alina Rojas, Alison Ward, Allison Berkoy, Amanda Curtis, Amanda Morgan, Anarcho Art Lab, Ancient Ocean, Andrew Mount, Angela Freiberger, Angela Washko, Anya Liftig, Brenda Anne Kenneally, Brendan Coyle, Bruce Randall, Carolina Redondo, Caustic Castle, Charles Chace, Chaw Ei Thein, Claudia Pena Salinas, Daniel Pepice, Daniela Kostova, Daphane Park, Dena Al-Adeeb, Don Porcella, Elinor Evelyn, Erik Hokanson, Erik Sanner, Fabio Marco Pirovino, Gabriel Comrie Pepín, Grady Gerbracht, Hassan Pitts, Heavy Hymns, Hiroshi Shafer, Hz Collective, Igor Baloste, Jaanika Peerna , Janaina Tschäpe, Jason Peters, Jeanne Verdoux, Jill McDermid, Jodie Lyn-Kee Chow, Jo Q. Nelson, John Loggia, Joro De Boro, Kathryne Hall, Katie Berry, Katie Murray, Kazue Taguchi, Kelley Bell, Kelly Pinho, Kerry Downey, Kirk Peterson, Kyle Corea, Latoya Ruby Frazier, Laurel Jay Carpenter, Lauren Fleishman, Lisa Dahl, Lopi Laroe, Lydia Watson-Lewis, Mandy Morrison, Margaret Salmon, Marina Temkina, Mark Clare, Marni Kotak, Matthew Sleeth, Meghan Van Alstyne, Melissa West, Mike Shane, Mikhael Antone, Miryana Todorova, Myk Henry, Nguyen Smith, Nia Burks, Nick Fevelo, Nicole Baker, Nijah Cunningham, Nilton Maltz, Noah Klersfeld, Özlem Günyol & Mustafa Kunt, Paul Moakley, Pedro Motta, Petra Lindholm, Phil Stearns, Pilottone, Quinn Dukes McDivitt, Rafael Sanchez, Rebecca Jampol, Rob Andrews, Russell Chartier & Paul Botelho, Sama Alshaibi, Sander Houtkruijer, Sean Metelerkamp, Sean Simpson, Sebastien Sanz de Santamaria, Staten Island OutLOUD, Steven Lapcevic, Syracuse Experimental, Tattfoo Tan, Tiffany Carbonneau, Tomaz Hipolito, Vela Phelan, Video Gang, Yana Dimitrova, Yoon Young Park, Zhenesse Staniec Heinemann AND MORE!!!
Please visit the official LUMEN website at http://www.lumenfest.org to learn more about LUMEN and the artists involved. To contribute to the event, please see LUMEN's IndieGoGo page: at http://www.indiegogo.com/LUMEN2011. LUMEN will be free of charge and open to the public.
About COAHSI:
The mission of COAHSI is to cultivate a sustainable and diverse cultural community for the people of Staten Island by: 1) making the arts accessible to every member of the community; 2) supporting and building recognition for artistic achievement; 3) providing artists and organizations technical, financial, and social resources to encourage the creation of new work. COAHSI does extensive outreach to communities that are underserved geographically, ethnically, and economically. The organization works hard to impact the arts across all borders.
-###-