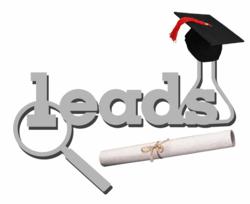 The Future Leaders Scholarship is just one of the many ways we get to show our appreciation to the investigators who serve our communities.
Dallas, TX (PRWEB) June 17, 2011
LeadsOnline, an online investigations system used by thousands of law enforcement officials across the country to solve crimes, is proud to announce the fourth annual Future Leaders Scholarship award winners.
The LeadsOnline Future Leaders Scholarship aims to support the effort law enforcement officials put forth everyday to bring peace and justice to communities by supporting the educational ambitions of the next generation of leaders. A total of $5,000 in college scholarships has been awarded to seven students who created and submitted an original video about the benefits of LeadsOnline to law enforcement agencies and crime victims across America.
"We were really impressed with all of the videos this year. We could tell each applicant really enjoyed creating an original production. The making of the video also helps students better understand the work that law enforcement investigators do every day." said Dave Finley, CEO of LeadsOnline. "The Future Leaders Scholarship is just one of the many ways we get to show our appreciation to the investigators who serve our communities."
Applicants wrote, produced and submitted a one-minute video designed to increase awareness among law enforcement agencies and public officials about the LeadsOnline investigative systems.
LeadsOnline is the nation's largest online investigative system used by more than 4,000 law enforcement agencies to recover stolen property and solve crimes. Property including jewelry, firearms, sporting equipment, electronics and collectibles with high sentimental value to the owner are all found by detectives using LeadsOnline. Detectives search for the items and suspects using a variety of parameters, including item descriptions and serial numbers. When an item is sold to a reporting business, the product information is entered in the LeadsOnline database and is immediately viewable by participating law enforcement agencies across the country.
Applicants are college-bound high school seniors or current college students in law enforcement families. In order to be eligible for the scholarship, a close family member must use or supervise users of LeadsOnline investigative services in a law enforcement. LeadsOnline investigative services include TotalTrack, SelectSearch, FastFind, Metal Theft Investigations System (MTIS) and LeadsOnlabs MethMonitor.
About the 2011 LeadsOnline Future Leaders Scholarship Award Winners:
College-bound high school seniors
$1,000 winner: Megan Marshall | Plain City, Ohio
Megan Marshall is a senior at Fairbanks High School who created a funny and entertaining video titled "LeadsOnline Man". In the video, LeadsOnline Man instantly saved the day by locating a stolen IPod. Megan's video demonstrates the ease to which LeadsOnline helps detectives solve crimes daily. Beginning this fall, Megan will attend Bowling Green University where she will major in international business and business management with minors in Spanish and entrepreneurship. Megan learned about the LeadsOnline Future Leaders Scholarship from her father, Sgt. Mark Marshall of Worthington Police Department. Sgt. Marshall has been in law enforcement for more than 20 years.
$1,000 winner: Robin Rinder | Norman, Oklahoma
Robin Rinder titled his LeadsOnline Future Leaders Scholarship video "Thank goodness for LeadsOnline". The crime victim in his video was relieved to find out that LeadsOnline could help locate her stolen property. The son of Norman Police Department's Sgt. Rob Rinder, Robin enjoys baseball, basketball and fishing. He plans to continue his baseball career in college and ultimately follow an entrepreneurial path.
$1,000 winner: Ashley Smith | Kokomo, Indiana
Ashley Smith made her LeadsOnline Future Leaders Scholarship video a family project. Enlisting the help of her brother, mom and dad, together they created a video where the police officer (played by her father) stops a burglar in the act, and then explains how LeadsOnline has been helping law enforcement catch crooks and cooks since 2000. Ashley plans to attend Ball State as a pre-med student and then continue on to medical school to become an obstetrician. Her interests include music, travel and the outdoors. She is also active in Student Council, Spanish Club, Band, National Honor Society and her youth group.
$250 winner: Kimberly Simpson | Bardstown, Kentucky
Kimberly Simpson took a straightforward approach to her LeadsOnline Future Leaders Scholarship video "How to: LeadsOnline". In less than 30 seconds, she demonstrated how LeadsOnline gets the bad guys, every time. The daughter of Officer Tim Simpson with Bardstown City Police Department, Kimberly plans to attend Bellarmine University and study criminal justice as a pre-law student. She is a National Honor Society member and enjoys acting and musical theatre.
$250 winner: Joshua Robert Ward | Pleasanton, Texas
After Joshua Ward collaborated with his dad, Sgt. Jeff Ward (San Antonio Police Department), he created the video titled "Welcome to LeadsOnline". In his video, the Pleasanton High School senior recreated the scene of a burglary and then explained how LeadsOnline would help solve the crime. Joshua will attend the University of San Antonio in the fall to study health care or physical therapy. His hopes are to play college football, possibly go the NFL and then be a physical therapist. Joshua is a member of 4-H, Future Farmers of America, Christ for Life, Fellowship of Christian Athletes and his church band.
Students currently attending college
$1,000 winner: Morgan Mason | Orion, Ill.
Following her love for animation, Morgan Mason created the video "Alan's Surprise" in which she drew out each frame of her stop motion video telling the story of a criminal who was arrested for burglarizing a home. Morgan is the daughter of Officer Scott Mason who has served with Moline Police Department for 21 years. A student at Blackhawk Community College, Morgan enjoys sports, reading, writing, art, animation and people.
$500 winner: Jonathon Solis | Plano, Texas
Jonathon Solis learned about the LeadsOnline Future Leaders Scholarship from his dad, Senior Cpl. Al Solis with the Dallas Police Department. After learning how LeadsOnline helps to catch crooks, he thought it was only fitting to title his video "S-U-C-C-E-S-S" because success in investigations is what LeadsOnline brings to detectives. Jonathan is an international business major at West Texas A&M University who would like to pursue a career in law enforcement at the national level.
About LeadsOnline: LeadsOnline is the nation's largest online investigative system used by more than 4,000 law enforcement agencies to recover stolen property and solve crimes. Each day, millions of items are added to the LeadsOnline database by businesses including second-hand stores, scrap metal recyclers, pawnshops, and Internet drop-off stores across all 50 states. Those records are instantly available to law enforcement agencies, meaning crimes can be solved in seconds, not months. The LeadsOnline system, compatible with the NCIC, serves as an indispensible, efficient, and money-saving resource for detectives because it provides a cross-jurisdictional, instantaneous, and accurate database that stops criminals from escaping detection by selling stolen items in another city. An official eBay partner, LeadsOnline helps prevent illegal transactions on the eBay website by giving law enforcement access to the world's largest online marketplace through automatic upload of all eBay transactions into the LeadsOnline database. LeadsOnline also includes LeadsOnlabs, a system for tracking those involved in the illegal manufacture of methamphetamines; a Metal Theft Investigation System designed to track copper and other metal thefts; and cross-checks names of pawn customers against the OFAC SDN list of known terrorists and narcotics traffickers. Each year, LeadsOnline is credited with recovering millions of dollars in stolen goods and solving thousands of crimes that are often associated with bigger crimes, such as homicide, identity theft, and arson. Based in Dallas and led by President and CEO Dave Finley, LeadsOnline works with thousands of agencies throughout the country, including the New York City Police Department, the Dallas Police Department, and the San Francisco Police Department. http://www.leadsonline.com
# # #