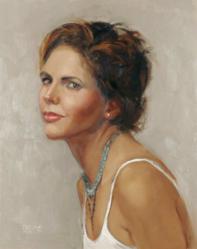 Creating a beautiful, compelling original portrait is an attainable goal for every artist who wants to learn the craft.
Prescott, AZ (PRWEB) June 19, 2011
The time-honored tradition of original commissioned portrait painting in oil continues to engage and mystify art lovers as much today as it has since before the Renaissance. Arizona based portrait painter an approachable, realistic way for every serious artist to create realistic and sensitive portraits.
"So many artists are intimidated by the idea of painting the portrait, but all it really takes is a willingness to observe, learn, and accept the fact that every artistic accomplishment - whether it be painting, writing,or playing a musical instrument requires practice", says Saper.
"For Love or Money: Portraiture & the Pursuit of Excellence", Saper's upcoming Prescott workshop this August, is a course she pioneered, designed to teach artists not only painting skills, but the skills necessary to become a successful commissioned portrait artist.
Since beginning her portrait practice more than twenty years ago, Chris Saper has completed over 325 portraits for clients throughout the United States. Although she travels for sittings about eight times per year, teaching continues to remain an important part of her artistic career. Saper's teaching philosophy is direct and straightforward. "There is a great deal of logic involved in understanding how to paint a likeness and mix beautiful skin tones. Understanding the "thinking" part of painting frees students to move beyond creating a painting that simply looks like the subject, toward a painting that says something about the subject."
About the artist:
Author of North Light Books' Painting Beautiful Skin Tones in Color and Light(2001), For Love or Money: a Business Handbook for Portrait Painters and Mostly Monochchrome (both available at the blurb.com website). Saper has also been published in The Best of Portrait Painting, Artist's Magazine, American Artist, International Artist Magazine, Pastel Artist International, and the Pastel Journal. Her work is also included in North Light Books' Strokes of Genius: The Best of Portrait Drawing, Strokes of Genius 2: The Best of Light and Shadow.
Saper's first two instructional DVDs , Painting Oil Portraits in Warm Light & Capturing the Beauty of Monochrome Oil Portraits were created in conjunction with artistsnetwork.tv , a division of North Light Books.
Chris Saper has studied with noted portraitists including William Whitaker, Daniel Greene, Bettina Steinke, Burton Silverman, Harley Brown, Phil Beck, and Dan Gerhartz. She holds a Bachelor's Degree in Fine Arts and a Master's Degree in Health Care Administration.
In addition to Chris's portrait commission schedule, she is an active public speaker/ painting demonstrator. She joined the Faculty of the Portrait Society of America in 2005 and teaches portraiture at the Scottsdale Artist's School and the Mountain Artists' Guild in Prescott, AZ. Chris also writes a regular column for John Howard Sanden's World of Portrait Painting. Visit with Saper at her Web site or send e-mail to chris(at)chrissaper(dot)com.
###