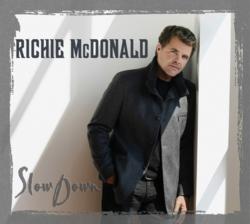 "It's great to be here at Full Sail University," said McDonald. "I always knew I wanted to be an artist, so I'm happy to be able to give back and to offer guidance to the students by sharing experiences from my career."
Winter Park, FL (PRWEB) June 18, 2011
On June 14, 2011 Full Sail University (fullsail.edu) was proud to welcome award-winning country singer / songwriter and former Lonestar front man, Richie McDonald, to its campus for an exclusive presentation held at the Full Sail Live venue. McDonald's Tour Manager and Full Sail Show Production graduate, Kevin Lammons, joined the event to discuss his career in the music industry and to share insight into the world of professional concert touring.
Recognized as one of country music's best singers and the former front man of Lonestar, Richie McDonald is the voice of songs like "Amazed," "Smile" and "No News." In addition to sharing his talents as a performer, he is the songwriter behind such hits as "My Front Porch Looking In," "Let Them Be Little" and "I'm Already There," which became an unofficial anthem for U.S. troops serving in the Middle East. McDonald has earned six gold and platinum albums, numerous CMA and ACM awards, as well as BMI awards for songwriting.
"It's great to be here at Full Sail University," said McDonald. "I always knew I wanted to be an artist, so I'm happy to be able to give back and to offer guidance to the students by sharing experiences from my career."
McDonald discussed his career in the music industry ranging from recording and touring with Lonestar to writing for well-known artists such as John Michael Montgomery, Clay Walker and Sara Evans. Joining him onstage during the lecture, McDonald's Tour Manager and Full Sail graduate Kevin Lammons, spoke to students about the world of concert touring and his work as a live sound engineer with national touring acts which included 5 years on the road with Lonestar.
"Richie and Kevin's presentation offered an inspiring and unique look into the professional career of a musician from both the perspective of a songwriter and performer," said Dana Roun, Director of Audio Arts for Full Sail University. "This event provided our students with the opportunity to learn about various aspects of the music industry from an award-winning artist, while gaining first-hand knowledge from a member of our alumni."
About Full Sail University:
Since 1979, Full Sail University has been an innovative educational leader for those pursuing careers in the entertainment industry. With over 34,500 alumni, graduate credits include work on OSCAR®, Emmy® and GRAMMY®-winning projects, best-selling video games, and #1 grossing U.S. concert tours. Full Sail's 191-acre campus and online education platform proudly welcomes over 13,000 students from 50 states and 49 countries. Full Sail currently offers a total of 37 Associate, Bachelor, and Master campus degree and online degree programs including: Computer Animation, Creative Writing for Entertainment, Digital Arts & Design, Digital Cinematography, Education Media Design & Technology, Entertainment Business, Film, Game Art, Game Design, Game Development, Graphic Design, Internet Marketing, Media Design, Mobile Development, Music Business, Music Production, New Media Journalism, Recording Arts, Recording Engineering, Show Production, Sports Marketing & Media, and Web Design & Development. Full Sail received the 21st Century Best Practices in Distance Learning Award from the United States Distance Learning Association; was named the 2008 "School/College of the Year" by the Florida Association of Postsecondary Schools and Colleges; The Harvard of Game Schools by Tips & Tricks Magazine; one of the Top Five Game Degree Programs in the world by Electronic Gaming Monthly; one of the Best Music Programs in the country by Rolling Stone Magazine; and one of the Best Film Programs in the country by UNleashed Magazine.
For more information about Full Sail, please visit http://www.fullsail.edu
###