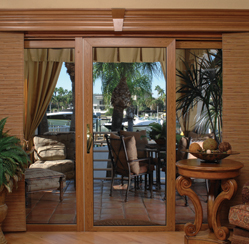 We see more and more customers taking advantage of the beauty surrounding their home by installing quality Stanek doors that will allow them to bring in the natural light and lovely surrounding landscape. - Rick Jones, Stanek Windows
Cleveland, OH (PRWEB) June 28, 2011
Whether a patio door is the main feature of a homeowner's great room, family room, kitchen or master bedroom, it will mostly likely be the largest entryway into a home. As homeowner's begin to decide whether or not to replace their patio doors, Stanek Windows recommends several key factors to consider. Their decision will enhance the value of the home and make it aesthetically beautiful.
A quality new patio door not only inundates a house with natural light, it will be the biggest consumer of energy. "We see more and more customers taking advantage of the beauty surrounding their home by installing quality Stanek doors that will allow them to bring in the natural light and lovely surrounding landscape," said Rick Jones, president and CEO of Stanek Windows. "They also realize that the energy efficiency of any door will help to lower their heating and cooling bills as well."
One factor to consider when purchasing doors is size. Most suppliers stock the standard 6, 8 or 9 foot doors, leaving the homeowner to convert the opening to fit the door accordingly. Stanek makes sure that each and every door is measured to fit the exact opening for each home. By doing so, this allows for a better fitting door. Better fitting doors and windows mean better energy efficiency for the consumer. The doors are well sealed to ensure comfort and energy efficiency. Glazing options (1- 1/8' glass units) make Stanek's patio doors one of the most efficient in the industry.
Another factor to consider is the amount of usage the door has by the homeowner. A patio door is the most used and pleasing part of a home. "Custom Stanek doors allow the consumer to choose additional features to further beautify the entrance," said Jones. "Features include optional etched glass or grids between the glass that can complement the windows and are easy to clean." When selecting a patio door, Stanek recommend that it is best to have a "rolling door" because interior space is greater. A "hinged" or "french door" opens into the house and limits the space around the door.
Another concern for many homeowners when selecting a patio door is security. Stanek doors feature a three-point (keyed) locking system for unmatched security and peace of mind. The doors are engineered for security and high-traffic use. There are a variety of glass choices with 1 1/8' insulated tempered glass units. The doors are crafted with multi-chambered, heavy duty walls and full-metal reinforcement. The sash glides easily across high-quality rollers and are easy to clean with mild detergent and a soft cloth.
Homeowners also need to ask, "What kind of glass should I purchase for my new patio door?" A wide variety of glass choices are available from Low E/Argon to the highest rated glass in the industry, system 9 Heat Mirror with SB60 and Krypton. Each consumer is able to select the features that bests meet their needs and budget.
Style and color are key elements when selecting a patio door. Stanek patio doors offer a wide variety of colors and finish choices. Inside finishes can be basic white or beige or consumers can now enjoy the look of real wood colors like oak, cherry or walnut. Exterior colors are available in a variety of colors or can also be customized to match the exterior features of a home.
Finally, homeowners need to consider what kind of warranty comes with the door. Nothing brings more peace of mind to consumers like the lifetime warranty on all parts and glass of the doors.
Giving a home an updated appearance will often help the resale value of the property. New patio doors are an investment in a home that can increase the value of the home, cut energy bills, reduce maintenance costs and also increase comfort while incorporating the homeowner's own sense of style with options they never dreamed of before.
About Stanek Windows
Stanek Windows serves Western Florida, Northeast Ohio and South-Eastern Wisconsin with offices in Tampa/Clearwater, Florida, Cleveland, Ohio and Milwaukee, Wisconsin. The company offers a full line of energy-efficient windows, patio doors and exterior doors, as well as, siding, hurricane shutters and gutter systems. All Stanek Windows are independently tested and certified to area building codes, including impact windows for the strongest Florida hurricane-rated codes. For more information, contact Stanek Windows at 800-4-STANEK or visit http://www.StanekWindows.com.
###