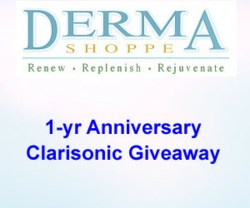 Always remember to Renew, Replenish, and Rejuvenate your skin.
Los Angeles, CA (PRWEB) June 20, 2011
On July 1, 2011, DermaShoppe.com will celebrate the first anniversary of launching their online store retailing products that help customers look like their favorite Hollywood celebrity. In a society where beauty and skin care are foremost on everyone's minds, DermaShoppe.com has made it easy and convenient to go online and purchase the top products available for specialized skin types and conditions. Beauty is timeless and beautiful skin can be too with the proper skin care regimen. There is nothing more confidence building than the glow of beautiful and well-cared-for skin.
To celebrate its 1-year Anniversary, DermaShoppe.com will be giving away one free Clarisonic Mia Cleansing System each day for a week starting July 1st. One lucky customer will be randomly selected each day and given one of the hottest-selling items in the marketplace today to transform themselves into that magazine cover girl. Register online today at http://www.DermaShoppe.com to take advantage of winning this fantastic prize valued at $149 retail.
In one short year, DermaShoppe.com has become one of the top internet retailers of the Clarisonic line. "It's very exciting that we have become one of Clarisonic's top retailers by volume in one short year. We are deeply committed to our partnership with Clarisonic to ensure the success of both companies" states Jimmy Nguyen, Co-Founder & Chief Marketing Officer. Furthermore, to ensure their customers have precisely what they need, DermaShoppe.com has added and are continually adding new brands such as SkinMedica, Jane Iredale, Peter Thomas Roth, Jan Marini, and Dermalogica.
DermaShoppe.com is a family-owned small business established to bring the very best in luxurious, high-end, physician-dispensed skin care products. DermaShoppe.com is a licensed online retailer of all the product brands sold on its website and the products are guaranteed to be 100% authentic and backed by the manufacturers' warranties. They believe customers and specialized skin care concerns are the top priorities, and have one of the best customer service policies in the industry. Everyone wants to look and feel like they can be on the cover of their favorite beauty magazine and, with DermaShoppe.com's help, they can achieve that goal.
DermaShoppe.com.
Renew. Replenish. Rejuvenate.
###