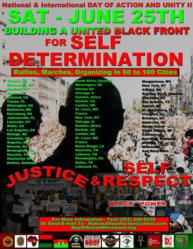 June 25th will be an important day for dissatisfied Blacks
(PRWEB) June 18, 2011
Saturday, June 25th is heating up as Blacks nationally and worldwide are organizing rallies, boycotts, marches, teach-ins, free food and clothing drives and other strong actions in over 50 cities. This mobilization is being spearheaded by a national and international coalition of organizations and activists in conjunction with the New Black Panther Party. The first "Day of Action and Unity", which was held on April 23rd was very successful as thousands of Blacks in over 40 cities organized in the streets and confronted what they termed the "racist power structure" in a wide variety of ways. The "Day of Action and Unity II" promises to be exciting as these grassroots activist have selected such controversial locations such as the Weinberg Jewish Center, located at 5700 Park Heights Blvd. and also Platinum Jewelry in Harlem, New York, located at 326 W. 125th street, where the organizers plan to reach their goal of "boycotting all non-Black Businesses". "Black Unity Town Hall Meetings" convened local leaders to confront local problems facing Blacks will be held in Washington, D.C.; Louisville, Kentucky; Chicago, Illinois; Los Angeles, California; and several other cities.
Organizers are again calling for a "Buy Black Only Campaign" and a "Boycott Of All Non-Black Businesses" for the day of June 25th. They say they are pushing this boycott to raise awareness around the fact that billions are being spent by Blacks to outsiders right in our own communities. According to June 25th co-organizer Dennis Latham from Alabama, "the economy is so bad that we can no longer ignore that fact that others are making billions off of our people right in our own community. We must boycott these exploiters as a sign that soon we are coming to take all the businesses in our community back in our hands."
The keynote speech of the Day of Action will be given by Dr. Malik Zulu Shabazz, Day of Action Co-Organizer, from Atlanta, Georgia at the Tupac Center in Dekalb County, Georgia. Mr. Shabazz is also Chairman of the New Black Panther Party and Black Lawyers for Justice. The speech will be broadcast live at 8pm Eastern at http://www.dayofactionmovement.org. Attorney Malik Shabazz has the support of Minister Louis Farrakhan, leader of the Nation of Islam, and a litany of local activists and leaders. According to Shabazz, "the time of complacency, conservatism and apathy must end and we must understand that Blacks will continue to remain at the bottom in many critical areas if they don't organize reverently to change their condition."
The New Black Panther Party and its leadership have been recently involved in a major national controversy over "voter intimidation" charges with House Republicans but claim that they are greatly misunderstood. The New Black Panthers say that the National International Day of Action and Unity prove that they have growing influence and reach and are now America's #1 Black Activist Organization.
In total, the cities mobilizing for the Day of Action and Unity include: Harlem and Brooklyn, New York, NY; London, England; Liverpool England; Washington, DC; Baltimore, MD; Atlanta, GA; Chicago, IL Norfolk, VA; London UK; St. Louis, MO; France; Baton Rouge, LA; Nashville, TN; South Africa; Lebanon, TN; Newark, NJ; Philadelphia, PA; Dothan, AL; Henderson, NC; Atlanta, GA; Dallas, TX; Athens, GA; New Orleans, LA; Zimbabwe; Charlotte, NC; Raleigh, NC; San Antonio, TX:, Trenton, NJ; Selma, AL; Houston, TX; Charleston, WV; Morgantown, WV, Fayetteville, NC; Midland, TX; Tampa, FL, Wilmington, NC; Milwaukee, WI; Jacksonville, FL; Chicago, IL; Louisville, KY; Los Angeles, CA; Raleigh, NC; Columbia, SC; Cleveland, OH; Augusta GA; Tampa, FL, Selma AL, St. Petersburg , FL; Irvington , NJ; Brooklyn, NY; Las Vegas, NV; Portsmouth, Virginia; Columbia, South Carolina; Miami, Florida.
The June 25th Day of Action is supported by Students and Youth, members of many of Black Church, the New Black Panther Party, Nation of Islam, National Black United Front, National Action Network, The Ordinary Peoples Society (T.O.P.S.), and a long list of local organizations.
Day of Action co-organizer Rev Kenneth Glasgow says, "until we stand up and address the crisis that's going on in the prison system and the lack of jobs and education in our communities we will continue to suffer and get no respect at the ballot box." Rev. Glasgow is the founder of T.O.P.S. (The Ordinary Peoples Society).
St. Louis organizer Linea Baker says, "the mere fact that there is an African American in office has not changed our reality. We are really stuck on stupid if we don't understand that symbolic power means nothing without mobilizing and organizing local communities across this nation."
"The National Day of Action and Unity II" will bring to attention the plight of so many who are uneducated, exploited, behind prison walls, disunited, in poor health, homeless, victims of police brutality, pimped by crooked politicians, tortured, falsely accused, under developed, morally perverse, apathetic, addicted to drugs and alcohol, victims of harsh budget cuts and genocide. Special attention will be given to victims of neo-colonialism, corrupt governments, imperialism, zionism, capitalism and inadequate concern for the Diaspora of Africa.
Our Demands Are Immediate And Non-Negotiable
http://www.dayofactionmovement.org
###