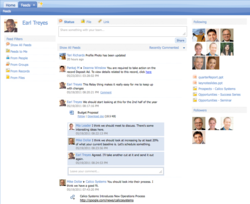 LongJump provides the perfect customer management and online database solution for our growing organization. It's easy to use, while still being rich in functionality.
Sunnyvale, CA (PRWEB) June 20, 2011
LongJump, a leading platform-as-a-service and online database provider, today unveiled two new services, LongJump Javelin and LongJump Relay, which bolster its cloud platform aimed at helping companies turn their data into customizable cloud-based business apps that can go mobile in minutes. LongJump Relay provides a social interface to business apps, and with LongJump Javelin, turn these custom apps into standalone mobile apps – on-the-fly – no coding required. LongJump is the first PaaS provider to offer an integrated platform, turbocharged with social and mobile capabilities, enabling companies to embrace the convergence of cloud, social networking and mobile, while moving in lockstep with the growing consumerization of IT.
Companies have recognized the advantage of making corporate data readily available to workers by way of cloud-connected business apps. Yet with workers now using multiple mobile devices, the notion of being tethered to a stationary PC is passé. Cloud-based apps enhanced with social capabilities for inside and outside company walls, regardless of device, are essential to how employees now work. Recent data spotlights this convergence of cloud, mobile and social. According to IDC, smartphones outsold PCs by 10 million units in Q4 2010. A recent Palo Alto Networks report found social networking within the corporate firewall increased 500% in only one year's time, and a Microsoft survey predicted 40% of SMBs will pay for cloud services over the next three years.
"We migrated from Salesforce.com after three years to LongJump because it was simply too expensive," says Dawn Pieke, marketing manager at Hirease, a nationwide specialist in employee screening and on-boarding. "LongJump provides the perfect customer management and online database solution for our growing organization. It's easy to use, while still being rich in functionality, and the customer service is extraordinarily helpful and personable. We're also excited about LongJump's upcoming mobile access features because it allows our multiple branch offices and distributed teams to have key information they need for engaging with customers wherever they are."
Integrating Cloud Apps with Mobile and Social Capabilities
Today's workers need to sift through heaps of data from any number of access points. The time and cost required to routinely create mobile apps around ever-changing data and growing mobile platform fragmentation hinders companies from being able to move data to the cloud and make it readily available on any number of mobile devices. Enter LongJump's platform, which integrates mobile and social capabilities into cloud-based business apps quickly – requiring zero coding.
"One of the biggest challenges facing businesses is how to cost-effectively extend today's cloud capabilities across their organizations," noted Jeffrey M. Kaplan, managing director at THINKstrategies and founder of the Cloud Showplace. "LongJump's new capabilities offer an easy way to move corporate data to the cloud and make it more accessible via a rich social layer and simple mobile apps."
LongJump Javelin enables businesses to easily access their browser-based data apps as native, mobile apps that run cross-platform on iOS, Android and tablet devices – on-the-fly.
Other key features of LongJump Javelin include:

Native mobile experience: Access database records, arranged by applications and objects, over an optimized interface for smartphone and tablet touchscreens. Javelin will launch on the Android Market with other mobile app stores to follow. It is also available through mobile web access.
Social biz apps: Share statuses, follow records and keep updated on changes in real-time through the LongJump's real-time Relay feed.
Extended engagement with data: Add, edit and delete, as well as search records. Access tasks to add, edit and mark complete instantly.
Execute workflow actions: Workflows, approvals and lifecycle management between team members can be triggered through the Javelin interface.
Data portability: All existing user data, permissions, security and other preferences are carried over from the LongJump desktop browser version to LongJump Javelin.
LongJump Relay provides a set of tools that give users insight into the important information and processes occurring around data within their teams. Users can interact with each other, activities and data in a more natural, Facebook-like way, improving collaboration without sacrificing security. Other key features of LongJump Relay include:

Real-time visibility: Users are kept up-to-date on key areas of their work with streams of real-time information that they need or are interested in, so they can easily visualize changes and improve decision-making.
Improved collaboration: Team members can collaborate more readily by quickly forming a workgroup to arrange specific files, projects, and other elements that are important.
Social processes: seamlessly incorporate with LongJump's backend platform including record management, security permissions, data policies, workflows, document sharing and detailed field-level change tracking.
Connect to business systems: A comprehensive REST API enables a wide array of options for extending LongJump Relay functionality or adding interoperability with other systems.
Cloud-Based Social Biz Apps for Mobile Empower Workforce, Improve Customer Engagement
This perfect storm of mobile, social and cloud-impacting business apps benefits companies of any size that want to empower a distributed workforce and better engage with customers. With LongJump, businesses can turn data into web and mobile apps immediately or choose from a catalog of more than 50+ ready-to-use templates that they can run immediately.
SMBs: where resources are typically minuscule, SMBs stand to benefit the most. LongJump's flexible platform is affordable and completely customizable without any coding - something very useful for companies of this size that are often without dedicated developers on staff.
Enterprises: large companies gain from harnessing LongJump's rich functionality and ability to control, manage and share information seamlessly. Apps built on LongJump can be done in days and weeks versus months and can quickly be mapped to existing and unique business processes.
ISVs: LongJump's multi-tenant cloud application platform enables ISVs to easily build and deliver business apps for web and mobile, decreasing time to market to capture customer mindshare, but without sacrificing control of brand.
"As one of the first cloud platform providers, LongJump recognizes that businesses need to not only offer enterprise social networking capabilities for their cloud-based biz apps but those apps have got to be mobile-enabled across a number of platforms," commented Pankaj Malviya, founder and CEO of LongJump. "LongJump Javelin and LongJump Relay will help companies extend their cloud apps to be more mobile and social – empowering their workforce, partners and customers to work better, have improved access to important data, and provide a more engaging customer experience."
Available immediately, LongJump Javelin and Relay are incorporated into its on-demand PaaS offering, online database, or CRM. The PaaS offering is also licensable for self-hosting.
About LongJump
Based in Sunnyvale, California, LongJump is a leading software provider that powers Platform-as-a-Service (PaaS) helping enterprises and ISVs solve the complex design, development, deployment and distribution of software-as-a-service and web-based applications. LongJump's PaaS and catalog of ready to use, highly customizable, online database applications help companies reduce the time and cost of developing and delivering data-driven applications. Taking a complete ecosystem approach with their cloud application platform, LongJump has significantly reduced time to market for companies looking to enter the SaaS market with their unique branded applications and has enabled enterprises to dramatically reduce IT support for custom application projects. For more information, visit http://www.longjump.com or call 800.886.9028.
###