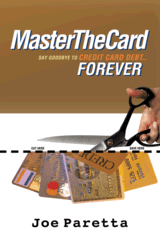 "I used them mindlessly, ignoring interest rates," he says. "Eventually, I realized something was wrong. That's when I began to change my habits and take steps to eliminate my debt."

Philadelphia (PRWEB) June 20, 2011
The recent economic downturn has left Americans across the country struggling with deep credit card debt. Now that conditions are slowly improving, a new book by a former debt sufferer offers a concrete plan to become credit card debt-free and financially stable.
In Master The Card: Say Goodbye to Credit Card Debt Forever!, life coach Joe Paretta encourages readers to discover why they abuse credit cards, how to stop and what to do once their debt is paid off. He equates credit card use with an addiction, and it's an addiction he's personally experienced.
"I used them mindlessly, ignoring interest rates," he says. "Eventually, I realized something was wrong. That's when I began to change my habits and take steps to eliminate my debt."
Like any addiction, maintaining card "sobriety" can be difficult, and various chapters address different stages in what is a step-by-step process. "Give" and "What Do You Want To Do With Your Life?" inspire readers to look forward to being debt-free, while "And 'Take?'" addresses the fragile mindset of someone coming out of a deep credit card debt. By following these steps, Paretta maintains that readers can find their way out and ultimately live more rewarding lives.
"This is financial advice with personality, and it is meant to be used as an ongoing resource," he says. "It is not a once-and-done read."
For more information, visit http://www.joeparetta.com.
Master The Card: Say Goodbye to Credit Card Debt…Forever!
By Joe Paretta
ISBN 978452500850
Paperback, retail price: $11.95
Available at http://www.barnesandnoble.com, http://www.borders.com and http://www.amazon.com
About the author
Joe Paretta is an adjunct professor of English at Lafayette College and Moravian College in Pennsylvania. He and his wife, Jessica, coach others through various life issues, including finances. He is a graduate of Hofstra University and seeks to educate the public on overcoming credit card debt through encouragement and sharing his personal experience.
EDITORS: For review copies or interview requests, contact:
Jessica Kiefer
Tel: 317.602.7137
Fax: 317.536.3775
Email: jkiefer(at)bohlsenpr(dot)com
(When requesting a review copy, please provide a street address.)
# # #