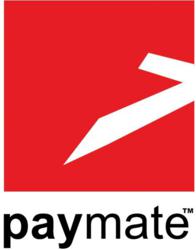 Paymate is a company that has been on my watch list for some time.
Woodside, CA (PRWEB) June 21, 2011
Paymate, an innovative provider of payment services, announced today that it has further enhanced the industry expertise of its Board of Directors with the appointment of George Wallner.
Following its recent merger with ACT Merchant Services, Paymate is adding mobile payment and commerce to its range of service offerings. Global availability of these emerging services is a key to being a well rounded full-service electronic payment services provider. To support this new focus, Paymate has appointed George Wallner to its Board of directors to bring the necessary technology leadership and vision that is so essential in this new and rapidly growing field.
"Industry heavyweights like George Wallner are few and far between," says Garrett Gafke, president & CEO, Paymate. "The addition of George to the Paymate Board of Directors is another critical component in our overall strategy of providing merchants, worldwide, with a one-stop-shop for payment services. George brings a wealth of experience in delivering leading edge, cost-effective payment solutions that meet merchant demands and satisfy the consumer's need for a flexible buying experience."
Mr. Wallner, founder and former CEO of Hypercom, was an engineer who designed telephones for International Telephone and Telegraph Co in Australia before he founded Hypercom in his kitchen. The company developed it first card payments terminal in 1983, along with its ground breaking Network Access Controller (NAC) products. Wallner relocated the company to Phoenix, AZ in 1986. Following a decade of rapid growth, the company went public in 1997. Under the guidance of Wallner, Hypercom became well known as a payments technology pioneer. After more than two decades of seven-day workweeks, Wallner stepped down as chief executive officer in 2000.
"Paymate is a company that has been on my watch list for some time," says George. "The combination of their existing technology with newly emerging mobile technologies is creating new opportunities to deliver complete payment services solutions to merchants, large and small. I feel that that my experience will make a significant contribution to build and expand Paymate's technology base and service offerings, while avoiding the pitfalls that can derail less focused organizations in this volatile market."
About Paymate
Paymate is an industry-leading provider of a complete set of online payment services leveraging the latest innovations in technology to meet the current and evolving needs for financial transactions for small to enterprise businesses worldwide. Paymate services are available to buyers in 57 countries around the world, and sellers in North America, Australia, and New Zealand. Paymate can facilitate all forms of electronic commerce globally while assuring that these transactions are secure and trusted. Our mission is to provide world-class payment reliability and customer service to all subscribers. For more information please go to http://www.paymate.com.
###