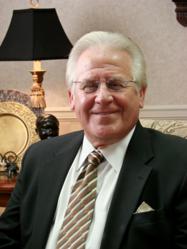 For nearly 25 years, Jim has had an outstanding career with John Knox Village, and he will be missed.
Lee's Summit, MO (PRWEB) June 21, 2011
James H. Franklin, vice president of finance and corporate treasurer of John Knox Village, is retiring next spring, capping a financial career in both the healthcare and retirement industries that spans more than four decades. His successor will be announced at a future date.
"For nearly 25 years, Jim has had an outstanding career with John Knox Village, and he will be missed," said Dan Rexroth, John Knox Village president and CEO. "Jim's successful tenure with the Village can be attributed to his talent, good judgment and hard work, as well as his ability to cultivate close working relationships with those he encounters daily — from bankers and financial professionals to his co-workers and our residents."
It is Franklin's ability to juggle the business and personnel aspects of relationships that has helped John Knox Village, a continuing care retirement community in Lee's Summit, Mo., to become one of the largest not-for-profit retirement communities in the nation, according to Rexroth. In addition to providing comprehensive independent living, residential care/assisted living and skilled nursing services to its residents, the Village offers home healthcare services to community members who live in 16 counties in Missouri and Kansas.
Franklin joined the Village in May 1987. Since then, his management and leadership skills have contributed toward the significant growth of the Village's financial strength. The organization's assets have almost tripled and its cash reserves have grown from $6 million to more than $32 million, enabling the Village to successfully weather the economic downturn that was detrimental to so many other not-for-profit retirement communities across the nation, Rexroth noted. What's more, because of Franklin's foresight and his ability to procure sound financing, the Village has expanded its healthcare offerings, adding new services such as Village Hospice; constructing the 420-bed Village Care Center; establishing (and shortly thereafter expanding both programs) Valley View Residential Care and Valley View Memory Care Assisted Living; and launching Home For Life Solutions in-home healthcare technology. Franklin also led multiple financing campaigns that enabled the Village to update and modernize its aging campus and physical structures, helping to maintain the satisfaction of current residents while attracting prospective residents to the community. Franklin also was instrumental in a reorganization of the Village's corporate structure, helping to establish a parent company, PremierLife, to manage the Village's expansion and growing financial strength.
Before joining the Village, Franklin worked in the financial divisions of multiple healthcare organizations in the Kansas City metropolitan area, including Humana Inc., Truman Medical Center-East, Children's Mercy Hospital and Menorah Hospital.
Franklin also has been active in numerous civic and professional organizations, including local chambers of commerce, LeadingAge Missouri, and LeadingAge. He also received a Medal of Honor Award from the Health Financial Management Association, an organization that he has been involved with for 42 years. Franklin has served as both president and board member for the association's local chapter. A native of Spartanburg, S.C., Franklin earned a bachelor's degree in business administration from William Jewell College and a master's in healthcare management and administration from Central Michigan University. He also is a Certified Aging Services Professional.
John Knox Village is working with B.E. Smith to conduct a national search for a new vice president of finance. Recognized as the top executive recruiter in the healthcare market by Modern Healthcare, B. E. Smith is located in Overland Park, Kan.
About John Knox Village:
John Knox Village is one of the largest continuing care retirement communities in the nation. It is a not-for-profit organization, run by a nine-member volunteer board of directors. The mission is to enrich the lives of older adults through community living. Founded in 1970, John Knox Village is located on 450 acres in Lee's Summit, Mo., with home health offices in Lansing, Kan., and hospice offices in Lexington, Mo. Each year, the Village serves about 2,000 residents on its campus and about 3,000 community members who live throughout the greater Kansas City area. John Knox Village is accredited by CARF-CCAC, the international accreditation body for continuing care retirement communities. For more information, visit http://www.jkv.org.
About B. E. Smith:
Founded in 1978, B. E. Smith is a full-service leadership solutions firm for healthcare providers. B. E. Smith's comprehensive suite of services includes Interim Healthcare Leadership, Permanent Executive Placements and Consulting Solutions. The company is comprised of veteran healthcare leaders who partner with each client to create solutions that uniquely fit their needs. B. E. Smith, the No. 1 ranked executive search firm by Modern Healthcare, maintains one of the largest databases of skilled healthcare leadership and interim executive candidates in the industry and recently placed more than 600 total leaders into healthcare organizations worldwide. For more information, visit http://www.BESmith.com or call 877-802-4593.
###