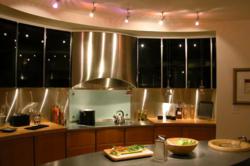 Los Angeles, CA (PRWEB) June 25, 2011
With the Dallas Market Center's International Lighting Show in full swing (June 23-26, 2011), architectural lighting has become the latest trend in home design. Modern décor calls for illumination that is energy efficient (LED, fluorescent, low voltage fixtures) and effective (Dark Sky and Energy Star® rated lights). But contemporary lighting also requires a sense of play, adventure, and comfort. Leading brands represented at the Dallas lighting show will include CSL, Bruck, Tech Lighting, LBL, and Liton Lighting. All of these manufacturers are well educated when it comes to the latest technology in green homes and employ industrious artisans to develop the next brilliant masterpiece.
Bruck Lighting is known for their variety of track lighting style monorail lighting with unique color, glass, and finish options. Recognized internationally for their energy efficient mono and dual rail systems, this brand is dedicated to creating energy-saving halogen and LED fixtures. German engineering and creativity knows no bounds when it comes to Bruck's pendants, spot fixtures, display track light fixtures, and self-contained monorail kits. They incorporate their unique art glass into every design and the colors are breathtaking. Bruck is often the first choice for artistic professionals, because they merge unusual (sometimes even bizarre) structures with easy-to-assemble systems in a fluid composition. Their latest line of architectural lighting fixtures is the LEDRA® Chroma which is changing the industry standard's LED color consistency. They use patented cold remote phosphor technology by Xicato® to create a seamless fixture-to-fixture consistency in the industry.
Tech Lighting is an industry leader when it comes to low voltage home lighting systems. This brand is the winner of the 2011 Lightfair Innovation Awards, specifically for their "Element Envision LED Head" whose lighting module, efficient power supply, and versatile optic options make it an excellent choice for home architectural lighting. Precision engineering and innovative designs are channeled into Tech's collection. Known for monorail and cable light systems, Tech caters to both home and commercial decorators as their fixtures have a futuristic and industrial feel. Tech was also the first to develop flexible track light systems which are malleable, so even the novice interior decorator can create custom curves of light. This versatile track system is available for line and low voltage pendant lights, with architectural head and glass lamp shade options as well. Tech's imaginative flair is best reflected in their hi-tech pendants, wall sconces, bathroom fixtures, and ceiling lights.
From their beginnings as a family business in 1971, Ronald Stone's LBL Lighting has morphed into a recognized architectural manufacturer. Prolific in their creations, LBL has published 47 catalogs to date. LBL's new Mini Rock Candy pendant series illustrates the brand's creative use of glass and texture. The Mini Rock Candy low-voltage pendants are mouth-blown, transparent glass rolled in clear crystal frit and flash heated for an unusual pebbled texture. LBL has embraced a more playful and elementary quality compared to the more sterile and minimalist styles of CSL and Tech. A leading designer of LED lights, LBL is committed to innovation in commercial illumination, proving that businesses can develop a style unique to their brand without sacrificing a commitment to energy efficiency. LBL is often the first company consulted by new high end restaurants, bars, nightclubs, art galleries, and retail showrooms, because they produce creative, but approachable, fixtures for modern interiors.
The recipient of the 2010 Best Interior Product Award in Las Vegas, Liton Lighting is the company to consult when deciding to "go green". Liton was given the award for their new LRLD6 Adjustable Gimbal 6" Trim Downlight, for its versatility as a retrofit and its exceptional color value. Focused on the needs of environmental architectural designers, Liton has produced a huge collection of recessed light fixtures. Specializing in high tech minimalist recessed lights, Liton is known for their miniature low voltage lights, under cabinet lights, and LED task lights. Recessed lights are versatile when it comes to architecture, because they can be installed as down lights, up lights, pool lights, kitchen lights, and step and deck lights. This brand is the expert when it comes to easy-to-install, environmentally friendly, modern layouts. Liton Lighting is a favorite among DIYers and novice interior designers.
All of these leading lighting brands will be represented at this weekend's International Lighting Show in Dallas, TX. Architectural lighting has finally found its niche in the interior design field. These brands' unique styles and ceaselessly creative artisans, combined with the ever-evolving world of energy efficient technology, are sure to keep inspiring new trends in home lighting industries.
AffordableLamps.com has been offering fine lighting at significant cost savings since 1999. With over 40+ brands and 30,000 lighting fixtures, they carry a large selection of lighting fixtures at heavily discounted prices compared to retail stores.
###