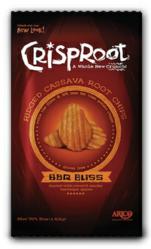 Joining forces with this nonprofit has us excited about opportunities for CrispRoot to be more active in its hometown,
San Diego, CA (PRWEB) June 21, 2011
CrispRoot, jumping into its new hometown's community life, announces today it is partnering with Parent Connection to serve families in San Diego and the surrounding vicinity through collaborative efforts, event sponsorships, and donations of its CrispRoot cassava chips.
In addition to sponsoring the Parent Connection's May 1 Spring Fantasy Luncheon held at Rancho Bernardo Inn, CrispRoot™ will be sponsoring the organization's Fall Harvest Festival. Throughout the year CrispRoot will participate in select Parent Connection functions that include enterprises ranging from parent workshops to family activities to outreach programs and food drives.
"Parents at CrispRoot have discovered the support and family connectedness Parent Connection engenders in the San Diego community. Joining forces with this nonprofit has us excited about opportunities for CrispRoot to be more active in its hometown," explains Angela Ichwan, owner and Chief Flavor Maker.
A centralized source of information for families, Parent Connection, among other things, organizes play groups based on category support factors, offers coupons redeemable in the San Diego and southern California area, and presents parenting workshops with content provided by experts in the medical, educational, and family care fields. Classes cover multifarious aspects of effective parenting germane to society today, such as Basic Training for New Dads and Guide to Wills, Trusts and College Education.
About CrispRoot (Arico Natural Foods)
Arico Natural Foods introduced Cassava Chips to the American market in 2007. In 2011 it launched CrispRoot chips – formulated with wrinkles for great dipping and a whole new crunch. With family ties to Indonesia where cassava is sustainably grown, the CrispRoot team nurtures every aspect of the chip making process from tree to table. No artificial ingredients will ever be added to its products. CrispRoot chips are distributed online through http://www.alice.com and http://www.amazon.com, and through natural grocers such as Whole Foods and Sprouts Farmers Markets nationwide. For more information, visit CrispRoot at http://www.crisproot.com.
About Parent Connection
The Parent Connection is a nonprofit parenting support network sponsored by Scripps Health that provides support in the form of parenting classes, playgroups, special events and an active online network. Since its inception in 1980, local families have relied on the Parent Connection to guide them through the maze of parenthood. Membership in the Parent Connection is open to all San Diego families. For more information visit http://www.sandiegoparent.com.
# # #