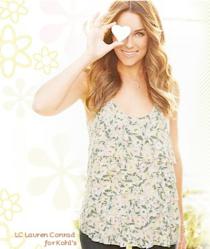 Los Angeles, CA (PRWEB) June 18, 2011
FashionClub.com, sponsored by FIDM/Fashion Institute of Design & Merchandising, has debuted fresh new content, including a feature story on Lauren Conrad Style. The celebrity, fashion designer, bestselling author, and former FIDM Student, currently designs the LC Lauren Conrad line for Kohl's.
The article covers everything from her TV background to her signature style, including shoes, style tips, and her hairstyles. Conrad just debuted a new blog called The Beauty Department, which was designed by FIDM Graduate Bri Emery, and covers everything from new lipsticks to smokey eyes.
Also new to the site, is a fun story on summer swimwear trends. Whether it's citrus colors and floral prints or nautical and ocean-inspired looks, natural and earthy looks are in for the season. Swimwear trends definitely mirror the spring/summer runway looks from top designers such as Michael Kors and Lanvin. Bohemian chic looks (complete with fringe, tassels, and braiding) and animal prints are also big for summer.
FashionClub.com also has stories on the hottest teen fashion and jewelry trends, runway looks, prom style advice, DIYs, make-up tips, and beauty tips. The site hosts contests to win prizes and scholarships to attend FIDM. There's also fashion career information, interviews with leaders in the industry, and inspiring stories from fashion design students and famous FIDM alumni like Monique Lhuillier, and even a sketch school tutorial.
FashionClub.com is sponsored by FIDM/Fashion Institute of Design & Merchandising—a fabulous fashion college with campuses in four major cities in California: Los Angeles, Orange County, San Francisco, and San Diego.
###