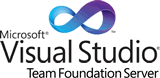 We want developers to try out the TFS hosting solution and see how easy the service is to use, so we extend our 30 day free offer until the end of the year
Pasadena, CA (PRWEB) June 22, 2011
DiscountASP.NET, a leader in Microsoft hosting solutions, announces extending their 30-day free promotion for hosted Team Foundation Server (TFS) Basic for up to 5 users. The promotion expires on December 31, 2011.
Microsoft Visual Studio Team Foundation Server 2010 is the collaboration platform which is at the center of Microsoft's application lifecycle management solution. TFS hosting is a Software-as-a-Service (SaaS) solution for source control and issue/bug tracking that integrates with Microsoft Visual Studio 2010. With DiscountASP.NET's hosted TFS solution, developers can use familiar Microsoft Visual Studio development tools to manage source control and track bugs, whether the developer works alone or with a team.
"We want developers to try out the TFS hosting solution and see how easy the service is to use, so we extend our 30 day free offer until the end of the year," said Takeshi Eto, VP Marketing and Business Development at DiscountASP.NET. "Our TFS hosting solution is separate from our web site hosting service, so developers do not need to be a web hosting customer to take advantage of TFS hosting."
For more information, visit http://www.discountasp.net/tfs
About DiscountASP.NET
DiscountASP.NET is an innovative leader in hosting for .NET developers, focused on providing the best value in ASP.NET web hosting and Team Foundation Server hosting. A Microsoft Gold Partner with the Gold Hosting Competency, DiscountASP.NET recently launched TFS Build Server and hosted Urban Turtle scrum tools as add-ons for TFS hosting customers. As a leader in cutting edge ASP.NET web hosting, DiscountASP.NET supports the latest Microsoft stack with ASP.NET 4.0, ASP.NET MVC 3, Razor View Engine, WebMatrix, and web deploy. Through strong word-of-mouth and their commitment to .NET technology, DiscountASP.NET has become the choice for affordable enterprise-class ASP.NET web hosting and TFS hosting. For more information, visit http://www.DiscountASP.NET.
All trademarks are the property of their legal owners.
# # #