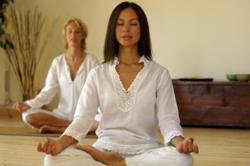 (PRWEB) June 18, 2011
MyReviewsNow is delighted to become an affiliate of the new APY60 yoga developed by Kurt Johnsen, the renowned yoga instructor and martial arts master who founded American Power Yoga. In his classes, Johnsen uses more than 100 different poses to challenge, strengthen and open up the body. He has now combined everything he has learned during his 20 years of experience teaching yoga into one complete system.
Users are able to lose weight at home with 60 individual daily challenges that include a morning warm-up and the APY60 Nutrition Guide, which is filled with tips and delicious recipes. They are also able to gain strength with 10 weeks of easy-to-follow American Power Yoga classes led by Johnsen. The accompanying step by step Fitness Guide provides a convenient place to record workouts, chart progress and measure results. Participants also gain peace of mind with APY60's daily blend of life coaching and conditioning that is designed to eliminate stress and strengthen weaknesses.
The APY60 Power Yoga program is the ultimate workout system. From stretching to jumping rope and using light weights, the innovative cross training program can rejuvenate a dull, ordinary workout routine. The DVD features modified movements that are taught alongside full strength exercises so that practitioners of all skill and fitness levels can build up body strength and conditioning.
The life-changing workouts and methods that Johnsen teaches in his studios, which normally cost hundreds of dollars per month, are now available in three easy payments of $39.95 each. The program is used by all types of celebrities and professional athletes, including the Dallas Cowboys Cheerleaders.American Power Yoga combines the best of Eastern and Western traditions and philosophies to offer easy poses that are fun, yet incredibly effective in whipping the body and mind into shape.
"APY60 changed my life. I've lost 72 pounds. Before APY60, I was a size 12. Now I'm a size 2," says Jessica from Texas. "I feel good. I almost feel like I have an inner glow, if that makes any sense. Inside and out, I'm the healthiest I've ever been in my entire life. APY60 totally changed my life. I swear it will change yours."
For a limited time, the system also comes with "Kurt's Kitchen," a DVD with step-by-step instructions on how to eat healthier by detoxifying the pantry, and the unique "Good Habit Builder Kit," which helps participants replace bad habits with healthy ones. As an added bonus, customers will receive an APY Endurance class that will add more intensity to workouts, and a pocket calendar that includes tips to help participants stay on track throughout the day. The website also provides an online-only bonus recipe for a decadent sweet treat that requires no sugar or dairy.
Johnsen also offers the general public access to his no-nonsense, life-changing blog, where he addresses a variety of health and fitness issues, from the powerful affect food has on the body. to the spiritual growth that can result from deep meditation, relaxation and mental concentration. In a recent post, Johnsen says he believes the reason American Power Yoga is so popular is because "it is a complete system with the ultimate goal of total well-being. Practitioners work on the body in every way."
APY 60, The Ultimate Yoga System, is backed by a 100% customer satisfaction guarantee. Up to 60 days after the delivery date, any regular priced merchandise can be returned for any reason for a refund.
# # #