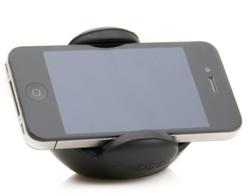 PODSTA is a great accessory for any smartphone owner and a must-have for summer and business travelers alike
Bellevue, Wash (PRWEB) June 20, 2011
Introducing PODSTA™, a new smartphone and media player stand that's as fun, flexible and expressive as you are. Introduced earlier this year in the UK where it reached instant popularity, PODSTA is now available in North America through Madrona, Inc. and its subsidiary, Volo Products.
Available in eight vibrant colors, PODSTA is a flexible, lightweight and versatile smartphone stand with a simple push/pull fit. PODSTA is compatible with all generations of iPhone and iPod touch, and a range of other smartphones from Blackberry, HTC, Samsung and many others.
PODSTA holds your device horizontally and vertically and works on both hard and soft surfaces from desks to sofas to tray tables on trains, planes or buses; giving people hands-free use in almost any location. PODSTA's patent-pending Softgrip ™ design made from post-consumer recycled foam makes it easy and comfortable to talk hands free by balancing your smartphone on your shoulder or simply place it on your desk to allow hands-free listening or FaceTime video chatting.
Gadget reviewer, Harrison Hopton @thehopster23 has the following to say in his YouTube review from Gadget Show Live 2011 in the UK, "iPhone stands today are cool but often they are heavy and are only good in just landscape or just portrait modes. But the PODSTA is good in both modes! It works with HTC, Blackberry, iPhone, iPhone 4, iPod touch and any other smartphone."
Imagine the ways to use PODSTA:

Watch a video or YouTube while lying in bed or lounging on the couch
Watch your favourite movies or webcasts during your morning commute or next flight
Display maps and driving directions from the cup holder in your car
Prop it on the kitchen counter to reference recipes while cooking
Enjoy hands-free video chat with friends and colleagues
"PODSTA was designed out of a real need for having something to hold my cell phone. I also noticed my kids had trouble holding their phones when watching movies or playing games," said PODSTA designer and founder Stephen Lee Vickers. "PODSTA has been a big hit in the UK and we are excited about bringing it to the North American markets."
"We love the unique charm, form and function of this simple but fun smartphone stand and we're thrilled to partner with Podsta UK to bring it to the North American territory," said Mitch Norton, Founder of Madrona, Inc. "PODSTA is a great accessory for any smartphone owner and a must-have for summer and business travelers alike."
PODSTA is available at Amazon.com for a suggested MSRP of $12.95 and is coming soon to retail stores in North America.
Watch a PODSTA video at http://www.youtube.com/myPODSTA.
Follow PODSTA on Twitter @myPODSTA and on Facebook at http://www.facebook.com/myPODSTA .
Distribution and retail partners can contact Steve Resch at Madrona Inc., the exclusive North American Licensee for Podsta Products, at 503-539-1836.
PODSTA ™ was designed in the United Kingdom, patent pending, and is a global trademark registered by Podsta UK. PODSTA is exclusively manufactured and distributed in North America by Madrona Inc./Volo Products. Other product and company names mentioned herein may be the trademarks of their respective owners.
###