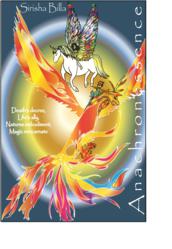 Live forever, love limitless and dream endless
Troy, Michigan (PRWEB) June 20, 2011
Seventh-grader Sirisha Billa loves incorporating the power of imagination into her daily activities. She uses what she believes the greatest gift humans are given in her debut novel, "Anachronessence" (ISBN 1461059143).
Aydan Flynn is just like any other young girl with a big summer adventure ahead of her. Her Aunt Sadhna has hired her as a tour guide in her birth country, India. The trip seems to be a perfect summer trip for her, but just about everything that could go wrong, does.
After her plane blows up, she and the rest of the passengers land just over a million miles away from their destination. Aydan suddenly finds herself in the middle of a supernatural war that she has ties to that she never knew. She finds out that she is one of the anachronessence spirits with the spirit of Mother Nature inside her.
On her journey to find peace for the warring Kronos Society and Aerutan Guild, she meets Father Time Finn and other anakros who help her along the way, especially as her spirit and Mother Nature's spirit struggle for refuge in the young girl's body. Her soul slowly eats away at her body as the war goes on around her and internally, and in order to overcome, she must become the strong girl she was before.
"I hope that Aydan's journey shows readers the power of friendship and how it can be the greatest value to someone at times," Billa says.
The 13-year-old author also talks of the importance of holding on through trying times because there is always a light at the end of the tunnel, regardless of how long or how difficult it is to get there, in "Anachronessence." She hopes that fiction readers who may be interested in using their imaginations and supernatural topics, like reincarnation, enjoy her novel.
"Anachronessence" is available for sale online at Amazon.com and other channels.
About the Author:
Seventh-grader Sirisha Billa incorporates the power of imagination in the one thing she likes to do the most: write. Originally from India, she moved to the United States with her family at an early age. The young girl enjoys singing, reading and watching movies. She is also an avid musician, playing the flute and percussion. She believes that self-expression is the most important gift humans are given, and her motto is "Live forever, love limitless and dream endless." Sirisha designed her own cover page for "Anachronessence".
MEDIA CONTACT:
Ramesh Billa
Email: rameshbilla@hotmail.com
Phone: (586) 420-5219
Website: http://www.createspace.com/3591040
REVIEW COPIES AND INTERVIEWS AVAILABLE
# # #