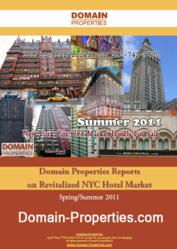 Average Acquisitions is close to $500 Per Key. Says Domain Properties.(212) 741-9700
New York, NY (PRWEB) June 20, 2011
Over two decades, Domain Properties, a New York hotel real estate industry experts, have seen their share of excitement about the NYC hotel sector. Yet according to their latest report, this experienced team has never witnessed such vast opportunities and tremendous activity in the New York City hotel market.
Domain Properties outlines comprehensive data about hotel deals during spring 2011 and the results are overwhelming even to the most seasoned industry professional. New York City is a market in the midst of strong recovery and intense growth.
Executives at the recent 33rd annual New York University International Hospitality Industry Investment Conference in New York City attested to the current strength of the NYC market. The main message to emerge from the world's premier conference dedicated to the hospitality sector – perfect timing for hotel investments.
Investors are showing renewed interest in the city's hotels. Even if specific properties had run into problems in the past, smart investors are still ready to take on NYC hotels. The current state of the market presents opportunities for hotel buyers and sellers.
At the beginning of June, Yotel, the European pod hotel chain, paid $263 million for space in the Related Companies' MiMA tower at 440 West 42nd Street. Yotel has opened its doors to a 669-room hotel offering 170 square-foot guest rooms for about $150 per night. The remainder of the 60-storey tower includes 500 rental units, 151 condos, 23,000 square feet of amenities, and 13,000 square feet of retail space.
Latest News Today: Pebblebrook Hotel Trust (PEB) agreed to pay $152 million for a 49% stake in six upscale hotels in Manhattan through a joint venture with affiliates of privately held Denihan Hospitality Group Among Them Benjamin located at Lexington Avenue and 50th Street 209-room Affinia Dumont in Murray Hill Affinia Gardens on the Upper East Side Affinia 50 in Midtown Manhattan Affinia Manhattan, located on Seventh Avenue near Madison Square Garden.
Latest News Today: New World Hospitality to Add Rosewood Hotels & Resorts Brand to its Portfolio of which The Carlyle Hotel is part of Rosewood Hotels & Resorts portfolio.
Recently, the 597-room Paramount Hotel, landmark boutique hotel, sold to developer Aby Rosen. The purchase price was $275 million. The new owner sees tremendous potential in the Paramount (one of the first hotels opened by former nightclub impresarios Ian Schrager and Steve Rubell) and plans to restore the property to reflect its 1980s glory days. Hotel buyers in New York City can get terrific deals. Investors become players in the ever-strengthening hotel market. The Cooper Square Hotel is one of the present choices for NYC hotel buyers.
This property struggled previously during the recession. Yet in this current market, the Cooper Square Hotel is expected to bring in a price of more than $80 million. With its latest report, Domain reminds buyers and sellers about basic facts concerning the New York City hotel market.
"Hotel owners will face competition but the NYC market can handle the influx of new hotels," explains Domain Properties.
According to reports by PKF International Report Manhattan is the leader in hotel transactions across the nation with year-to-date sales over $1 billion (a quarter of national upscale urban hotel trade volumes).
Domain Properties offers expert hospitality valuation and advisory services about the NYC market. This professional team knows the New York City hotel industry and recognizes the tremendous potential of its hospitality sector.
Their recent research indicates that one major factor is encouraging the current hotel market. According to their Spring/Summer Report, "An increase in tourism over the past six to twelve months is driving economic growth in this key market." Spring has been promising for investors in New York City. Indeed, summer is looking just as positive for hotel buyers and sellers. NYC hotels are bound to attract vacationing tourists and business people as things heat up in the Big Apple.
The New York City market holds much potential in the near and distant future. Generally, established markets perform well and provide excellent opportunities for investors.
Domain Properties
234 5th Ave
New York NY 10001
T: 212-741-9700
http://www.domain-properties.com
Hotels(at)domain-properties(dot)com
# # #