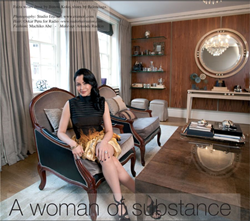 The Indian property development/interior design market has huge potential and as a European property development company that also does interior design, we offer the market a unique proposition.
(PRWEB) June 21, 2011
Hyderabad-born Faiza Seth, the CEO of her luxury architectural and interior design firm Casa Forma had her sights firmly set on India. Tempted by the country's fast-growing economy – which continues to lure global luxury firms despite hurdles like high tariff barriers – and eased by her personal Indian connections, Seth is planning to expand Casa Forma's presence here with the opening of a Delhi showroom by the end of the year.
Casa Forma will be the latest arrival in a market which appears to be growing: The home furnishing unit of Italian fashion house Versace, for instance, opened its doors in the Indian capital in January. Originally set up as a property development firm, Casa Forma reshaped its business model after the 2008 property crash and shifted to luxury interior design.
Faiza Seth leads Casa Forma's strategy and development initiatives. As the CEO of the company, her expertise lies in managing, HR, finance and marketing.
Faiza began her career in the Equity Capital Markets group at Lehman Brothers in Hong Kong. Following this she established her own international apparel manufacturing and trading business, Norwest Industries Ltd.
Faiza has enjoyed living all over the world, including America, Hong Kong and the UK. After graduating with a Bachelor of Arts degree in Economics from Northwestern University, she worked across a diverse range of industries and went on to obtain her MBA from Stanford University in California. Her passion for entrepreneurship and her love for creativity led to the inception of Casa Forma – a perfect mix of the two - along with her founding partner, Luigi Esposito.
Luigi Esposito is the creative director of Casa Forma and is the man behind the artistic and ingenious creations. Luigi qualified as an architect in Brazil from Ritter Dos Reis University, in 1994. After moving to England in 1996 he completed a Masters in Interior Design from the University of North London. Luigi then started his career with renowned fashion designer Ralph Lauren as a Senior interior designer with the Ralph Lauren Home Division and worked with them for several years.
Luigi's diverse portfolio includes residential and commercial projects ranging from several penthouse projects (two of which are included in the Stephanie Hoppen interiors book, 'Perfect Neutrals' and 'Andrew Martin Interior Design Revie 2006'), luxury flats, country homes, shops and polo clubs.
For more information please visit Casa Forma's website at http://www.casaforma.co.uk
###