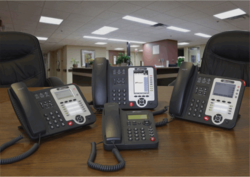 Sarasota, FL (PRWEB) June 21, 2011
IPitomy Communications, an award winning developer of enterprise class IP PBX Systems, announced the introduction of a new line of IP based phones to compliment their successful line of business communications platforms. The complete family of phones includes 5 new models. The new line of phones brings high quality and exceptional functionality to businesses with 5 to 500 users.
The new line of phones includes a broad variety of features. Ranging from large color screens, to WI-FI desk phones, the phones are designed to fit into business environments of all types. Most of the features have been developed from customer input and include full duplex speaker phone, headset options for call centers, acoustic echo cancellation, advanced call handling capability for ease of use and additional configuration support features to maximize efficiency.
"We are extremely excited to announce the IPitomy HD phones for the IP telecommunications market," said Nick Branica, CEO of IPitomy. "These new products will meet the strong demand for our IP PBX products and add a new dimension of usability in an attractive package. IPitomy increases our competitiveness with these high quality instruments and strengthens the position of our resellers in the competitive IP Telecommunications marketplace. IPitomy is introducing wideband HD voice combined with our IP PBX systems at a market leading price bringing incredible value to our customers."
The new line of phones is designed to meet the wide variety of business applications. The IPitomy HD phones replace the existing line of IPitomy IP phones. Built on a new generation of IP communications technology, the new family of phones more closely aligns with customer applications by including a broad price range and performance options under a common brand. "IPitomy is unique in the IP PBX market," states Andrew Harrell, IPitomy's director of engineering, "by creating our own endpoints to compliment our powerful IP PBX system, while still remaining open to other SIP end points, IPitomy provides unprecedented customer choice and value. IPitomy's ability to develop to our customers' specific application requirements is unique in the industry."
For more information on new IPitomy line of IP phones, visit: http://ipitomy.com/index.php/products/hd-phones
About IPitomy Communications:
IPitomy Communications is a premier developer of pure voice over IP PBX systems and SIP based telephones that are meeting a market demand internationally for a feature-rich, price competitive Unified Communications Business Solutions. IPitomy designs and manufactures a complete line of IP telephony equipment including IP PBX Systems, IP Telephones, Desktop Call Manager and Call Center Software.
For more information visit http://www.IPitomy.com
FOR IMMEDIATE RELEASE
Contact: Paul Falanga
IPitomy Communications
941.306.2233
paulf(at)IPitomy(dot)com
© 2011 by IPitomy Communications, Inc. All Rights Reserved.
###