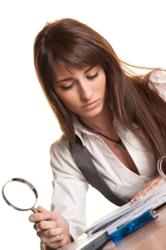 (PRWEB) June 20, 2011
Intellicorp is a nationwide company that specializes in data aggregation. Customers provide certain identifying information about their search target, and InTouch searches public records for people that match the customer's information.
InTouch was founded in 1996. The company operates across the United States, and its services rely on government records from the municipal, local, county, and state levels. InTouch has grown into an industry leader because of its accurate search results and deep database queries.
Customers simply need to navigate to the InTouch website and create a free account before running a search. Intouch provides sample results for each of its services, and clients can view the documents before registering for an account.
A customer must provide a first name, last name, and state for any search. If the person in question has a common name, additional information may be added to the search. Search results are typically returned within a minute or less, but searches of common names may take more time. InTouch's goal is for all searches to be conducted in seconds.
Because public records vary between states, InTouch may not be able to run a small number of search types in certain states. For example, some states do not release arrest records to the public. InTouch provides a convenient chart that explains what search types are available in every state. Although some databases contain decades-old information, other databases may only have recent information. InTouch will return old and new results.
Search results are only available online for 60 days, but customers are encouraged to print out copies of their results. Search results are only kept for 60 days to protect customers' privacy. Clients must ask for a new search if their results have been expunged.
A third-party provider handles all billing issues for security purposes. Several major credit cards are accepted, but other forms of payment are not allowed at this time. All billing and search information is protected by top-tier security protocols. InTouch also promises customers that their searches will be kept completely confidential from the person or persons who are the subject of the searches.
InTouch currently offers background checks, criminal records searches, a people locator, and reverse searches for email addresses or phone numbers. Companies have a separate section of the website for business-to-business services such as searches of employment and tenancy records.
If a customer is interested in a custom search, InTouch can combine some or all of their various services to fit a client's needs. Multiple searches may increase the chances of success. Because databases are updated at different intervals around the country, search results may change over time. Customers with questions about a custom search should contact InTouch's dedicated customer support staff.
Intellicorp InTouch is offering a 10 percent discount off of all searches for a limited time. After a customer runs a search, the discount will be automatically applied to their bill at checkout. InTouch occasionally makes other special offers available for first-time and frequent customers.
# # #