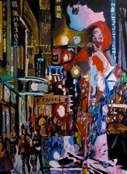 Los Altos, CA (PRWEB) June 20, 2011
Gilbert Marosi, artist, sues the presiding Judge of Monterey County in small Claims court of Palo Alto, CA, for alleged conspiracy with Carmel, CA, gallery owner, Carlos Porras to defraud artist Gilbert Marosi, in a scam involving thirty used frames sold to Mr Marosi on the pretense they were new. The total amount allegedly stolen by Mr. Porras is $5000. The case number is 2-11-SC-008068. The Date: July 21st at 1:30 PM. The Court is the Superior court of CA, Palo Alto Courthouse, 270 Grant Ave.
As alleged by Gilbert Marosi and according to court documents, "Carlos Porras has been illegally operating an art gallery in Carmel for about fifteen years. During this time he seldom pays artists for their commission. He allegedly has at his gallery, Canapo, an inventory of about $1,000,000 of art objects stolen from their rightful owners."
Papers filed for that case allege that Mayor Sue Mc Cloud and Robert Lauchlan have participated with Porras as accessory after the fact to allowing him to victimize artists by stealing either their paintings or their commission. Court documents state, "The following artists have also allegedly been victimized: Angela Rubio for $2,000; Don Becker for $10,000; Claudia for $8,000; Chcklein for $450; Gilbert Marosi for $14,000; Hugo Lecaros for $3,270; Jeff Schaub for $5,000; and Charles Carter for $5,000."
Case Information: Case number: 2-11-SC-008068
Court of Record: Small Claims Court of Palo Alto, California
For Marosi's artwork check MAROSI
###