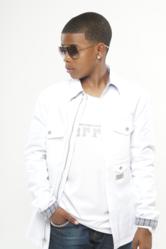 This July, Young Marqus will release his first mixtape entitled Respect Me.
Houston, TX (PRWEB) June 21, 2011
What Snoop Dogg was for Lil Bow Wow, and Master P for Lil Romeo, comes a fresh new protégé straight off the Lupe Fiasco red carpet; Young Marqus, aka "YM" is a true savant in the rap game – all this for an artist who is all of 11 years old. This July, Young Marqus will release his first mixtape entitled Respect Me.
Respect Me is comprised of several songs that exemplify the world as seen through YM's eyes. A promotional video, "Cypher Freestyle," was released June 1, 2011 on Youtube and World Star Hip Hop. It is already helping to make this young talent, who spits with the soul of a thousand years, a household name with rap music enthusiasts everywhere.
It was Lupe Fiasco himself that helped generate a worldwide buzz for Young Marqus after tweeting his enthusiasm and approval of this newcomers music. Not long after, YM was featured on The LupEND Blog, and eventually given the opportunity to open up for Lupe Fiasco and B.O.B. on the Houston, TX and Winston-Salem, North Carolina leg of their 2010 Steppin Laser Tour.
Hip Hop Heads around the world always want to know: Who is their favorite rappers, favorite rapper? If Lupe Fiasco's avid endorsement and continued support of Young Marqus' hip hop career holds any weight with this infamous question, then signs might point north, as it pertains to who in the rap game has truly caught this "Superstars" attention.
When we think of YM, and then consider other junior artists like Matty B and Rebecca Black who too have gone viral on social media websites, we'll quickly realize after hearing his music, that when it comes to true skill, he is in a league of his own— born 16 bars ahead of the competition.
A tour schedule will be posted on his website within the coming weeks, as Young Marqus gears up to go on the road to promote his mixtape. Respect Me will be available on Independence Day, July 4, 2011.
About Young Marqus:
Young Marqus, aka "YM", is a child prodigy, poised to be a new and exciting breath of fresh air in the Music Industry. At the youthful age of 10, Young Marqus instantly garnered the respect of industry veterans such as Lupe Fiasco and B.O.B who allowed him to be the opening act during their recent STEPPIN LASER Tour. Most Recently, Lupe Fiasco endorsed YM's talent by posting YM's "Words I Never Said"(cover) along with words of respect and appreciation on his social media sites as well as his blog, The LupEND Blog, driving fans from all over the world to become instant fans of Young Marqus. Young Marqus has also been featured on popular Hip-Hop Blogs such as "World Star Hip Hop" and "This Is 50". To learn more about Young Marqus, visit http://www.youngmarqus.com.
###