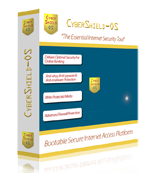 Washington, DC (PRWEB) June 20, 2011
CyberShield Solutions, LLC launches CyberShield-OS, a family of security products designed to bring unparalleled security and protection to consumers' online banking and other confidential data. The easy-to-use bootable software enables virtually any Intel compatible PC to quickly serve as a purpose-built, high-security Internet access platform when higher levels of security are needed. This gives PC users convenient and effective protection against spyware, malware, and cybercriminals' attempts to defraud consumers of their financial assets or personal identities.
In addition to extending the capabilities of one's general purpose PC to protect confidential online transactions, CyberShield-OS' multi-layer architecture offers PC users added security benefits, including:

Identity Protection
Privacy Protection
Web Usage & Tracking Protection
Anti-virus, Anti-spyware & Anti-malware Protection
Advanced Firewall Technology
CyberShield-OS runs as a "live" OS from USB or CD media and can be used with nearly all modern PCs. CyberShield-OS is designed to exceed the capabilities of traditional anti-spyware and anti-malware offerings by ensuring an exact replica of the desired software environment is created for each user session. As an extra layer of security, user sessions are run in a protected environment, shielding confidential data from malware that may already be hidden within the host PC's general purpose operating system. The combined features are essential for PC owners uncertain of the security status of their PCs, or the threats to which they may have been exposed.
CyberShield-OS' comprehensive security, ease-of-use, and free download make a huge step toward equipping consumers with a level of security necessary to protect their online credentials and financial assets.
CyberShield Solutions distributes its products directly via the company's website.
About CyberShield Solutions
CyberShield Solutions, LLC develops and markets security solutions to protect consumers' online safety and security. The company is headquartered in Washington, D.C.
Contact:
Richard Warren
(202) 621-2330 x550
CyberShield Solutions, LLC disclaims any proprietary interest in the marks and names of others.
# # #