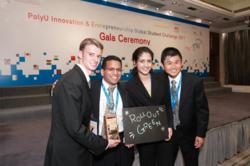 (PRWEB) June 20, 2011
Organized by The Hong Kong Polytechnic University, PolyU Innovation and Entrepreneurship Global Student Challenge (GSC) 2011 has come to a fruitful close. After rounds of keen competition, the Gold Award of the University Division went to Purdue University, US. As for the Secondary School Division, 'Iolani School, US snatched the Gold Award. (Please refer to the full list of award winners.)
The Final competition was held yesterday (16 June) on the university campus, with six finalist teams competing in the University Division and another six teams in the Secondary School Division. These aspiring young people presented their innovative business ideas to a panel of judges comprising of renowned entrepreneurs, business executives, school principals, university professors and venture capitalists from Hong Kong and overseas.
This unique event was launched by PolyU in 2010 as a major initiative to embrace internationalization, innovation and entrepreneurship. This year's GSC has attracted more than 190 teams from secondary schools and universities from 27 countries and territories and the 12 finalist teams have risen to the top amidst fierce competition at the Semi-Final which took place three days ago (13 June). And for the very first time, three outstanding Hong Kong teams have advanced to the GSC Final.
PolyU President Professor Timothy W. Tong extended a warm welcome to the participants, many of them are visiting Hong Kong for the first time to join the GSC. He said, "It is truly impressive to see the widespread support from the community for this event and keen participation of students from different parts of the world. GSC not only helps to unleash students' business sense and creativity, but also helps to heighten PolyU's effort in promoting internationalization, innovation and entrepreneurship."
Professor Judy Tsui, Vice President (International and Executive Education) and Chairman of GSC Organizing Committee, said, "We take pride in hosting this competition which provides a unique opportunity for students all around the world to develop innovative and entrepreneurial potential and broaden their global perspective and networks. We are also pleased to note that more and more international students are joining the competition and being attracted to our vibrant city."
Presentations of the University Division at the Final Competition were adjudicated by a judging panel chaired by Mr James E. Thompson, Chairman & Chief Executive, Crown Worldwide Group, Hong Kong. Other judges included: Mr Chan Tze-ching, Senior Advisor of The Bank of East Asia, Limited, Hong Kong; Mr Nixon Chan, Head of Corporate and Commercial Banking, Hang Seng Bank Limited, Hong Kong; Mrs Fanny Law Fan Chiu-fun, Hong Kong Deputy, The 11th National People's Congress of the People's Republic of China, P. R. China; and Mr John Yip, Executive Director, Henderson Land Development Company Limited, Hong Kong.
As for the Secondary School Division, the judging panel was chaired by Dr Kelvin Wong, Executive Director and Deputy Managing Director, COSCO Pacific Limited, Hong Kong. Other members included: Professor Alan Barrell, Entrepreneur in Residence, Centre for Entrepreneurial Learning, Judge Business School, University of Cambridge, UK; Professor Ir Daan van Eijk, Vice Dean and Director of Education, Faculty of Industrial Design Engineering, Delft University of Technology, The Netherlands; Mrs Stella Lau, Headmistress, Diocesan Girls' School, Hong Kong; and Mr Joseph Y.W. Pang, Senior Advisor of The Bank of East Asia, Limited, Hong Kong.
The judging panel of GSC 2011 was composed of a total of 60 Shortlisting, 31 Semi-Final and 10 Final judges with diverse experience coming from all over the world, all of them being renowned academics and senior executives in their respective fields. In addition, five overseas academics have been invited to play the role of international advisors as well as judges to contribute and add international dimensions to the judging mechanism of the competition. They are: Professor Alan Barrell from University of Cambridge, UK; Professor Arthur Boni from Carnegie Mellon University, US; Dr Ken Coates from University of Waterloo, Canada; Professor Ir Daan van Eijk from Delft University of Technology, The Netherlands, and Professor Raymond Vito from Georgia Institute of Technology, US.
The business proposals were grouped by the sub-themes of Health and Wellness, Lifestyle, Environment and Sustainability, Corporate Social Responsibility / Social Enterprise, and others. Winners of Gold, Silver, Bronze, Commendation Awards as well as the Theme Awards and Best of the Best Commercial Award for each Division were selected and announced last night at the Gala Dinner cum Presentation Ceremony at The Mira Hong Kong. The awardees each received a cash prize, a trophy and a certificate.
During their stay in Hong Kong, GSC participants have had ample opportunities interacting with their peers through an array of activities supported by PolyU Student Ambassadors. The comprehensive excursion programme ranged from educational visits to the Hong Kong Science Park and Cyberport to fun occasions such as Ocean Park visit, Harbour Cruise and Tai-chi experience.
In addition, two inspirational seminars were organized exclusively for the participants with overwhelming responses. The first seminar titled "Some Heroes of Entrepreneurs" was given by Professor Alan Barrell on his over 30 years of remarkable experience in nurturing entrepreneurs worldwide. Miss Vivian Lee, Marketing Director of Ocean Park, also shared with the participants the Park's strategy in competing with other theme parks.
The University is grateful to the following sponsors for their ardent support to the GSC:
Diamond Sponsor
Dr Margaret Choi Lee Wai-lai
Emerald Sponsors
Chevalier Group
The Mira Hong Kong
Official Carriers
Cathay Pacific Airways Limited
Hong Kong Dragon Airlines Limited
Co-organizer (for competition on the Chinese mainland)
International Strategic Technology Alliance
*****
Press contact: Miss Caroline Tso
Senior Manager, International Affairs
Tel: (852) 2766 4518
Email: [email protected]
###