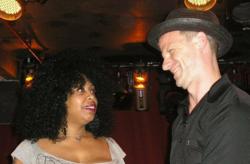 The Stick Against Stone (SAS) Orchestra will be performing the long-lost (30 years) songbook of Stick Against Stone in a free outdoor concert in Brooklyn on Saturday, July 9th @ 2pm - for the transmedia documentary "Get It All Out"
New York, NY (PRWEB) June 21, 2011
The Stick Against Stone (SAS) Orchestra will be performing songs not heard in almost 30 years from the rediscovered songbook of Stick Against Stone, as part of a free outdoor concert on Saturday, July 9th at 2pm at the Herbert Von King Park Recreation Center (670 Lafayette Avenue) in the Bedford-Stuyvesant neighborhood of Brooklyn, NY. To be filmed for the cross-media documentary-in-progress "Get It All Out" (http://www.getitalloutmovie.com) – the SAS Orchestra is a 12+ member all-star ensemble of New York City musicians.
The story began in Pittsburgh in 1981 – where 7 young musicians got together to create a deliberately new sound in the middle of the post-punk/No Wave era. This group, Stick Against Stone – was an eclectic collective with a myriad of danceable influences, including No Wave, West African and Brazilian percussion, funk, reggae, dub, free jazz, art rock, folk and punk. Initially, there were no guitars - just drums, percussion, bass and 4 horns. Everyone sang in the group, but at the front most of the time was a tall, lanky lad by the name of John H. Creighton Jr.
A powerful singer as well as an excellent sax and flute player – Creighton was a poet from an early age, writing lyrics that dealt with both the beauty and madness of life. By day, he worked as a VISTA volunteer, helping feed hungry Pittsburghers through a local food pantry. A chronic migraine headache sufferer for many years – his struggle could be heard (and felt) through his voice and instruments. Unfortunately in 1985, at the age of 30 - John died from a heart-attack due to a known heart defect.
The July 9th event in Brooklyn will celebrate the revival of the music of Stick Against Stone (with a reunion of a handful of original band members from around the US), and the memory of John Creighton and Richard Vitale – the founder and wildly inventive drummer/percussionist of the group - who passed away in July of 2010.
Lead by music director David Terhune, the SAS Orchestra is made up of veteran NYC-area musicians - including members of Loser's Lounge (founder/keyboardist Joe McGinty and David have been mainstays at Joe's Pub and other performance spaces for 15+ years), in addition to David Miles – guitarist from the Bronx-raised post-punk/hip-hop notables ESG, drummer Denny McDermott (Donald Fagen, Marc Cohn), bassist Jesse Krakow (director of the recent New Yorker magazine "Critics Pick" benefit/tribute to the late Captain Beefheart), percussionist Yusuke Yamamoto (Dizzy Ventilators, Sabina Sciubba), and saxophonist Paula Henderson (Burnt Sugar, Melvin Van Peebles). A new album by the SAS Orchestra is planned for release in the fall of 2011.
As this is a free event, tickets are not required. Von King Park is easily accessible by the NYC MTA G subway train, from either the Myrtle-Willoughby or the Nostrand/Bedford stations.
For more information about the Stick Against Stone Orchestra, please visit http://listn.to/sasorchestra and follow the progress of "Get It All Out" on Twitter @mediagroove.
About MediaGroove LLC
Started in March 2006, MediaGroove is a transmedia documentary and music production company based in New York City, working on new forms of participatory Digital Storytelling tied to Web 2.0 & interactive social media across multiple screens, devices and platforms. Currently in production on the feature-length documentary and eBook "Get It All Out."
###