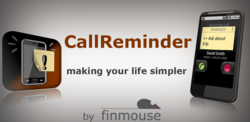 Once you get used to it you can't do without it.
Cluj Napoca, Romania (PRWEB) , 21th of June 2011 (PRWEB) June 21, 2011
Finmouse has released the Blackberry version of their 5 star Android CallReminder application.
CallReminder allows the User to create a Reminder Note and Assign it to one or more of his/her Phone Contacts.
A Reminder Note will be shown on the screen next time the User calls that Person or they call the User. The Reminder will automatically become inactive after it is shown on the screen.
CallReminder is the only Blackberry application that conveniently shows the Reminder during a Phone Call, allowing users to never again forget telling their friends about things.
"I use CallReminder myself all the time – as an example I was meeting with a friend of mine yesterday – wanted to remind him to bring his swimming gear to pass by the pool. So I just added a Reminder and when I called him I saw the Reminder on the Screen. Once you get used to it you can't do without it." - Andrei Kovacs, Lead Entrepreneur and Managing Director at Finmouse.com.
Now available on Blackberry Market too:
http://appworld.blackberry.com/webstore/content/47835?lang=en
Blackberry Video:
http://www.youtube.com/watch?v=MQMmMYJZR9A
Android Video:
http://www.youtube.com/watch?v=wzFeX9TMzyg
Soon launching on Ovi Store too.
To learn more about CallReminder please visit http://www.finmouse.com/callreminder
###