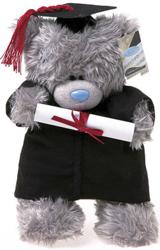 Unlike birthdays, graduations are relatively rare occasions. Friends and family therefore, don't always know what type of gift is appropriate or find it hard to come up with gift ideas. This is why we've put together our graduation gift guide
Halifax, West Yorkshire (PRWEB UK) 22 June 2011
Over the summer, thousands of school children, college and university students will receive the results of their GCSEs, A-levels, degrees and other exams. This means that family and friends will on the search for gifts to congratulate them on their exam success.
Choosing the most appropriate gift, however, isn't always easy. To help, Big Fat Balloons, the balloons, teddy bears and gift store, has put together a step-by-step guide to buying graduation gifts that always make the grade.
As Sophie Baxter, managing director, Big Fat Balloons commented:
"Unlike birthdays, anniversaries or other annual celebrations, graduations are relatively rare occasions. Friends and family therefore, don't always know what type of gift is appropriate or find it hard to come up with suitable gift ideas. This is why we've put together our Graduation Gift Buying Guide."
Step 1 – To buy or not to buy a graduation gift?
The relationship between the gift buyer and school or college leaver is the main consideration when deciding whether or not to buy a graduation gift.
Close relatives, parents, grandparents or siblings, for instance will usually want to buy a gift. While for more distant relations or friends of the family, a graduation or congratulations card will probably suffice.
Step 2 - Set a budget
Big Fat Balloons advises gift buyers to set a budget and stick to it. Even inexpensive gifts, with a little thought, time and creativity, can be priceless to the recipient.
Low – under £20
Graduation teddy bears make light hearted keepsake gifts for all graduates. Or for something more personal, an album or scrapbook filled with photos from their time at school or college, makes a gift to cherish.
Medium - £20 - £50
If the recipient is leaving home for university then a going-away hamper, filled with useful necessities like toiletries, food and drink is a useful idea. Equally, a top up card for their mobile phone is a welcome gift and a great way to encourage them to keep in touch.
High - £50 plus
Watches or jewellery make memorable graduation gifts. It's also easy to personalise jewellery and watches by having the gift engraved.
Step 3 – useful or frivolous graduation gifts
Making the decision on whether or not to buy a useful gift or one that's pure fun, will help with idea generation.
Useful graduation gifts
If the school or college leaver is continuing in education then books relating to future studies or planned careers are useful and money-saving ideas.
For more generous budgets, toasters, kettles and irons are useful gadgets for anyone leaving for university. Meanwhile, a laptop is a necessity for most students these days, and would make a most welcome gift.
Frivolous graduation gifts
Anything goes for this section, whether it's a cuddly toy, box of luxury chocolates, perfume or a favourite book or CD. For something that little bit different, experience gifts can help to expand their horizons. Whether it's white water rafting or a pamper day, there's bound to be something to excite.
"If you're still stuck for ideas, at Big Fat Balloons we have a range of graduation balloons available. They are sent already inflated with helium in large stripy boxes and make wonderful and surprising gifts," said Sophie.
###