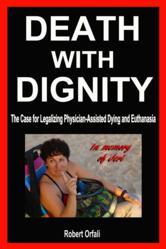 A thought-provoking contribution to the debate over this explosive issue. —Kirkus Star Review
Minneapolis, MN (PRWEB) June 21, 2011
The U.S. Conference of Catholic Bishops (USCCB) approved a policy statement condemning physician-assisted dying at its Spring General Assembly in Seattle on June 16. This is the first time the full body of bishops have addressed this issue. The full text of the USCCB paper was accompanied by a series of fact sheets. According to Robert Orfali, these papers ignore the bulk of the recent record in Oregon and the Netherlands—including volumes of medical papers and state oversight statistics. The USCCB's assertion that the Netherlands is on a slippery slope towards involuntary euthanasia has long been refuted. The papers repeatedly make use of hypothetical slippery slope arguments that have failed the test of reality. According to Orfali, "No credible claim can be made that aid in dying exacerbates grieving outcomes, weakens hospice and palliative care, threatens people with disabilities, or discriminates against elders, minorities, or vulnerable populations. At this point, only the arguments based on religious faith remain intact. I invite you to read the USCCB papers and then read my book. I disprove every one of their assertions."
In his new book Death with Dignity: The Case for Legalizing Physician-Assisted Dying and Euthanasia, Orfali provides an in-depth exploration of the shortcomings of our end-of-life system. The reader will learn about terminal torture in hospital ICUs and about the alternatives: hospice and palliative care. With laser-sharp focus, Orfali scrutinizes the good, the bad, and the ugly. He provides an insightful critique of the practice of palliative sedation. The book makes a strong case that assisted dying complements hospice. Oregon, by providing both, now has the best palliative-care system in America. This book can serve as a gentle and informed guide to "a good death" in the age of hospice and high-tech medical intervention.
Orfali makes a compelling case for legalized physician-assisted dying. Using the latest data from Oregon and the Netherlands, he puts a fresh new slant on perennial debate topics such as "slippery slopes," "the integrity of medicine," and "sanctity of life." His engaging writing style brings clarity to these issues. The content is thought-provoking; the arguments are well-researched, air-tight, and original. 
"Orfali approaches this agonizing subject with common sense informed by extensive research and an acute sensitivity to the dilemmas faced by dying patients and their families and doctors. The result is a thought-provoking contribution to the debate over this explosive issue. A lucid, powerful argument for letting dying patients go gentle into that good night."
— Kirkus Star Review (April 15, 2011)
Robert Orfali, the guru of client/server systems in the early days of Silicon Valley, co-authored three best-selling books that demystified the complexity of these mission-critical systems and made them understandable to a whole new generation of programmers. The books sold over a million copies. In this book, Robert uses his analytical skills to deconstruct the most complex system he has yet encountered: our modern end-of-life system. He wrote this book after helping his soulmate and coauthor, Jeri, navigate her death from ovarian cancer in 2009. The deep emotions Robert felt allowed him to look at how we die from a different perspective, another angle. Robert also wrote Grieving a Soulmate. 
Paperback: 254 pages
Publisher: Mill City Press, Inc. 
Publication date: April 15, 2011
ISBN-10: 1936780186
ISBN-13: 978-1936780181
Paperback list price: $14.95
E-book list price: only $ 0.99 "almost free."
Book and e-book available from Amazon, Barnes and Noble, Apple Store, and others.
E-book formats include Kindle, iPad, iPhone, Nook, Android, and others.
Book website: http://www.DeathwithDignityBook.com
###