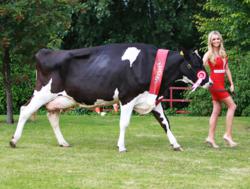 "For dairy breeders, winning 'the Baileys®' is like having a horse win at the Grand National."
Belfast (PRWEB) June 21, 2011
The winner of the Baileys Irish Champion Cow will be judged on impeccable breeding and good looks of the four-legged kind. Black & white Holstein Friesian cows are a familiar sight the length and breadth of Ireland but what will set these beauties apart will be nice legs, shapely udders and great bone structure, overall a 'body perfect', the ultimate mark of a true, pedigree bovine beauty queen.
Preening and pampering by professional cow stylists, with their coats washed and lacquered, tails fluffed and udders pinked with blusher at the 'Baileys salon' will ensure the 'cowtestants' look their best when they go on parade.
Already acknowledged in agricultural circles as the most prestigious dairy livestock competition in Ireland and Britain, the event attracts thousands of spectators every year. This year's prize fund has been increased to €9,000. But it's not just the money that attracts the farmers. It's the serious kudos of winning the 'Champion' title that can boost the re-sale value of their herd. "For dairy breeders, winning 'the Baileys®' is like having a horse win at the Grand National," explains Brendan Smyth, Competition Director.
Approximately 250 million litres of milk per year is needed to make Baileys® which equates to the annual output of about 40,000 dairy cows. Together, they contribute to over 79 million bottles of Baileys sold in 170 markets. For all their hard work in making Baileys' quality cream ingredient, it makes sense that the world's No. 1 liqueur should recognise and reward the fairest of them all.
Enjoy Baileys® sensibly.
###