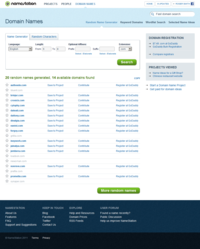 The easiest way to find a memorable, brandable and unique name with an available domain.
New York, NY (PRWEB) June 21, 2011
NameStation, a New York company, announced today the re-launch of its naming website with high-end domain name suggestion tools at http://www.namestation.com
The new website can generate hundreds of relevant domain ideas in a matter of minutes. In addition to .com and .net domain names, there are over 40 domain extensions to choose from. Niche keyword domains can be quickly found by combining more than 150 preset wordlists and with the help of a variety of keyword research tools.
In addition to Domain Name Search, NameStation features Social Naming Contests.
Everyone can create a private Contest for free to choose pet names, artwork titles, names for fictional characters, scientific discoveries, even zoo animals - anything new in the world. NameStation is the first Social Naming website where people can receive name suggestions, feedback and ratings from friends. Close integration with Facebook enables users to simply post a Contest announcement and wait for the entries to be submitted. For a small fee, the entire NameStation's community can be engaged to suggest names.
For businesses, holding a naming contest with awards is an excellent marketing opportunity that can reach potentially thousands of contestants.
"Every day, countless new names are needed to distinguish new brands, products, concepts and individuals," said Tauno Novek, the founder and CEO of NameStation. "A good name helps to transmit the essence of a particular identity; it is worth spending time on gathering ideas, doing research and getting second opinions. NameStation makes the quest for memorable, brandable and unique names significantly easier."
There are over 120 million domain names currently registered. Finding a sensible and brandable website name without the help of bulk search tools requires a lot of time and luck. With NameStation's domain name checker, suitable candidates can be found in minutes, instead of days checking each domain name individually. The intelligent domain research and teamwork features make it an ideal tool for naming specialists, branding and marketing agencies, domain professionals, startup companies - essentially anyone who needs a new name for anything can benefit from NameStation.
About NameStation
Based in New York, NameStation - http://www.namestation.com - is a privately owned company that uses the latest web technologies to build innovative websites dedicated to naming and domain search. To learn more about NameStation, please visit http://www.namestation.com/press
###