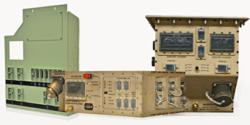 Much of the demonstrated success [of Spectrum Power Management Military Power Panels] has been to meet the challenges of size, weight, and power reduction objectives that customers face every day
(PRWEB) June 21, 2011
Spectrum Power Management Systems (SPMS), a division of Spectrum Control, Inc. and well-known manufacturer of AC and DC power distribution units and management solutions, is engineering its way into the military and defense arena with a demonstrated collection of military high reliability power distribution and management panels. Much of the demonstrated success has been to meet the challenges of size, weight and power reduction objectives that customers face every day. SPMS Power Panels are built to withstand a number of extreme terrain and climate conditions and have been vigorously tested for superior reliability. Spectrum Power Management Systems offers a number of power panel designs suitable for military, ground field, shipboard, and airborne applications, and specializes in developing custom configured designs to meet exact applications requirements.
Built to meet precise guidelines, power distribution and management panels can take on many functional roles in fulfilling the electrical power distribution for the success of military mission. Power Panels can distribute single and three phase power from one or many load devices and power to any or all loads can be sequenced or switched on/off. Meeting MIL-Std-461 requirements for any branch of the service is also the specialty of SPMS. Surge & NEMP protection, emergency power off, transfer switching, and a battery charger are also features integrated to many of the solutions. Additional objectives of our design team include designs to meet Mil-Std-810 and incorporation of wide operating temperature range, water tightness to 1P67 or 1P68, and rugged durability to meet shock and vibration conditions experienced in the field.
SPMS Military Power Panels also offer ideal I/O (Input/Output) power and feature both +24/28 VDC to 500 Amps and 3 Phase AC to 100 Amps per phase. An additional pass through connector interface is also available to support supplementary forward operating base requirements.
Learn more about Spectrum Power Management System's Military Power Panel solutions or speak with a representative about developing a solution to fit your unique requirements. SPMS offers a full line of rugged military and defense solutions developed in-house by an experienced team of engineers and designers. Contact (814) 272-SPMS to learn more about Spectrum Power Management Systems' capabilities today.
About Spectrum Power Management Systems
Spectrum Power Management Systems is a manufacturer of rack mount power strips, power distribution units, and circuit protection systems for both DC and AC applications. It has developed products as an OEM/ODM international partner to the industry's top names, and has supplied reliable power solutions to a number of commercial, industrial, military, and federal IT markets.
http://www.SpecPower.com
About Spectrum Control, Inc.
Founded in 1968, Spectrum Control, Inc. is a leader in the design, development, and manufacture of high performance custom solutions for the defense, aerospace, communications, industrial and medical industries worldwide. Spectrum Control, Inc., an ISO 9001:2008 and TS 16949 certified company, is comprised of four businesses: Power Management Systems, Advanced Specialty Products, Microwave Components and Systems, and Sensors and Controls and is a wholly-owned subsidiary of API Technologies Corp.
http://www.SpectrumControl.com
About API Technologies Corp.
API Technologies Corp., through its subsidiaries, designs, develops and manufactures systems, subsystems, RF and secure communications solutions for technically demanding defense, aerospace and commercial applications. API Technologies' international customers include many leading Fortune 500 companies. API Technologies trades on the OTC Bulletin Board under the symbol ATNY. For further information, please visit the company website at
http://www.ApiTechnologies.com.
###