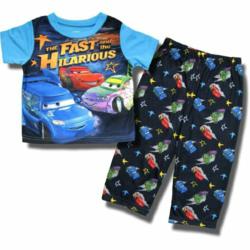 "LittleJammies knows how successful Disney brands are to the sleepwear business and we are prepared!" says Vice President, Donna Marino
Cranford, NJ (PRWEB) June 22, 2011
This summer's release of Disney's Cars 2 is expected to be a sensational hit with children and adults across the US. The rollout of retail merchandise for summer theatrical release Cars 2 began in mid-May, and retail projections show that it will exceed the performance of Toy Story 3 last year to become the largest merchandise program in licensing industry history, according to Disney. Toy Story 3 contributing around $2.4 billion in merchandise sales last year, according to License! Global magazine.
"LittleJammies knows how successful Disney brands are to the sleepwear business and we are prepared!" says vice president, Donna Marino. Each summer a Disney summer blockbuster offers new licensing opportunities in apparel. LittleJammies has captured the sleepwear market with their offerings through the years with many Disney licenses including; Little Mermaid, The Princesses, Mickey Mouse, Cars, Hannah Montana, High School Musical and Toy Story.
"Over a multi-year span Disney licenses have represented our core business in children's sleepwear" says President Scott Marino. LittleJammies strives to stay on point with all of it offerings which also includes licenses from Nickelodeon, Marvel and many smaller licenses. It's time to tighten the belts and prepare for fast selling the Cars 2 merchandise.
About the Company
Little Jammies is a division of Panda Apparel LLC which carries high quality children's sleepwear and undergarments. http://www.LittleJammies.com is the retail branch of the company dedicated to selling children's products.
Panda Apparel, LLC was formed in 2007 and is owned and operated by Scott and Donna Marino. The two share over 20 years of experience in the apparel industry and 12 years of online specialty retailing. All of the company's divisions are committed to protecting and preserving the environment. As an international business, Panda Apparel, LLC is committed to the improvement of the worldwide state of human rights and environmental degradation.
###