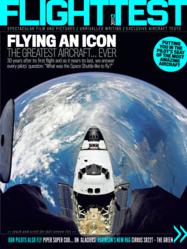 10 incredible aircraft, 250 stunning pictures and 40 minutes of video that makes this APP the best for pilots and people who love flying.
(PRWEB) June 21, 2011
The new FLIGHTTEST app for iPad puts you in the cockpit of 10 soul-stirring aircraft, including a never-before insight into the greatest of them all... NASA's incredible Space Shuttle, as it reaches the end of its 30-year career.
Just two weeks before it's last mission, iPad owners get the opportunity with this new video- and picture-packed app to discover what it was like from the pilot's chair to bring it back to Earth, with tons of added information about Man's greatest machine; did you know it takes the equivalent energy of 16 nuclear power stations to get 2000 tons of Shuttle, cargo and fuel into space?
The informative, educational, and downright fun app has been created by the same team behind some of the best magazines and web content in aviation publishing, LOOP Digital Media. The Shuttle features alongside nine other aircraft tests, making this app incredible value at just £1.79.
World-class pilots bring beautifully detailed reports, including flying Cessna's best-selling business jet, gliders, a record-breaking fast turboprop, a brand new turbine helicopter, the world's newest and most extreme aerobatic aircraft, special mission flights like landing on glaciers in the Alps, and of a beautiful Italian exotic.
With features written by expert test pilots, pictures from award-winning photographers, and exclusive video and interviews, it's the best app yet for aviation fans to take their love of flight wherever they go, and for non-pilots to savour the joys of flying – to inspire, or just entertain.
With over 250 beautiful pictures and nearly 40 minutes of video, FLIGHTTEST is sensational value for aircraft lovers everywhere. The 2-in-1 app reads vertically for reports and features, while horizontal lets you enjoy the very best of the amazing pictures which capture every one of these aircraft in their full beauty. Video works in either mode.
Aircraft featured include:
•Cirrus' unleaded SR22T
•Cessna's gorgeous Mustang jet
•The superfast TBM 850 turboprop – the fastest of its type in the world
•A beautiful Piper Super Cub... landing on glaciers!
•Robinson's all-new R66 turbine helicopter
•An original 50-year-old Piper PA-28
•The jaw-dropping all-carbon XtremeAir Sbach342 aerobatic plane
•Piaggio's futuristic Avanti II
•Gliding: Going solo in a weekend
•What it's like to fly the Space Shuttle from one of NASA's greatest ever figures
Special features include:
•Mission control guide – see inside the control centre of NASA's Space Shuttle
•How to land on a mountain glacier
•An Avanti executive aircraft... doing aerobatics!
•Cockpit guide to the Space Shuttle
•And much more!
This app includes an iPad reader and a library facility. To sample the app, there is a free download of one entire test, of the beautiful Daher-Socata TBM850 fast turboprop.
To find the app, search for 'FLIGHTTEST' on the iPad app store.
Editor's Notes
LOOP Digital Media publishes a range of magazines for pilots around the world, including LOOP for UK private pilots, LOOPIN' for pilots in Germany, Austria, and Switzerland, P1 for jet and turbine business aircraft owners, pilots, and operators worldwide, and BLADES for the helicopter community. It also creates LOOPTV, an online and TV-ready aviation entertainment and news channel.
http://www.loop.aero and http://www.looptv.aero
For additional info or images
Contact: Sam Spurdens
Telephone: +44(0)1223 497060
Email: sam(at)loop(dot)aero
###