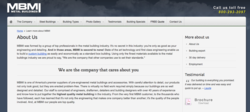 In an effort to provide our customers with the best products and service possible we have updated website to be both a company site and an open source of information on all things steel building related.
Delray Beach, FL (PRWEB) June 21, 2011
MBMI Steel Buildings, supplier of pre-engineered steel buildings and accessories, is thrilled to announce the launch of its newly re-designed website:http://MBMISteelBuildings.com
The website has been undergoing this makeover for several months. MBMI's web design staff restructured the site with easier navigation, updated content, and mobile phone compatibility. Donnie Strompf noted, "the majority of people do an online search before making any purchase, which is why it was important that MBMI's new website be not only user-friendly but also provide current and prospective customers with clear concise information about it's products and the industry."
A couple of the updated sections of the website include:

The updated specials page presents building specials that MBMI is currently running on a variety of building sizes on a state by state basis to adhere to local building codes.

Contains an explanation of the building components used in each of MBMI's steel buildings. This page explains the use and benefit of each component and clarifies the difference between MBMI's components and the alternatives. Components include base conditions, frame systems, bracing, framed openings, panels, fasteners, trims and accessories.
New pages soon to come to the MBMI site include:
A comprehensive list of frequently asked questions for current and prospective pre-engineered building owners. The questions are a combination of real-life inquiries from previous customer and information that MBMI's sales and engineering teams deem useful and in demand.

Informative articles from MBMI staff addressing topics that both current and prospective steel building owners can find beneficial. Topics will address designing buildings in various weather conditions, maintenance, compliance with building codes and regulations, green building, and many more.
The new site provides an updated database of testimonials with photos and videos of buildings created by MBMI. It also includes pages dedicated to green building, integrating alternative energy sources, and obtaining LEED certification. As always MBMI representatives can be reached by phone, email, or through our updated free live chat support via our website.
MBMI invites you to please feel free to check out the new and improved website.
For a free quote on a 30-day delivery steel building visit http://mbmisteelbuildings.com/metal-building-quote or call toll free 1-800-293-2097
About MBMI Metal Buildings
MBMI, offering a wide range of great customer service, is among the leaders of metal buildings companies in the USA. MBMI specializes in steel buildings, custom designs, manufacturing, and fast delivery. Using state of the art technology and first class engineers MBMI builds economical custom buildings with ease. MBMI uses only the finest materials available to the metal buildings industry. Our staff is comprised of engineers, draftsmen, detailers and building designers with over 70 years of experience and know-how to put together the highest quality metal building in the industry. Please visit http://mbmisteelbuildings.com/
###