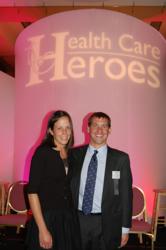 "Because of our unique structure and Writers Initiative Network, we have experts across a broad range of therapeutic areas that are unmatched by our competitors."
Cincinnati, OH (PRWEB) June 23, 2011
Medical Communication Consultants (MCC) of Cincinnati has found that linking experienced medical writers with the right projects-- and collaboratively managing the process-- saves pharmaceutical companies time and money.
This has translated into big profits for MCC. Headed by president and founder Keith Kleeman, the clinical research organization initiated its Writers Initiative Network™ (WIN) network last year, and continues to attract more of the best medical writing specialists in the industry.
MCC reported 46 percent growth in 2009, and 20 percent growth in 2010. MCC has sustained average growth of 68 percent per year over the last five years.
The seven-year-old Cincinnati medical writing company is helping cut the high cost of new drug development by taking advantage of technology and outsourcing trends.
MCC's WIN now has 142 medical writers located throughout the U.S. to help drug companies fulfill Food and Drug Administration (FDA) regulations regarding new drug development and medical device approval. Last year the organization had 57 people within its operation.
WIN is a network of expert medical writers located all over the U.S. who are assigned to specific drug development projects based on medical writing experience and drug or medical device expertise. Its writers are either PhDs or have 10 years of experience in medical writing.
MCC matches writers to clinical research projects based on experience and expertise, which saves a pharma client the cost of a generalist's learning curve. "Ask a potential client if a large clinical research organization (CRO) can find on its staff the best and most experienced writers for endocrinology, oncology, neuroscience, pain or sarcoma for a given project," says Kleeman. "Because of our unique structure and WIN, we have experts across a broad range of therapeutic areas that are unmatched by our competitors."
Using one large clinical research organization (CRO) as a sole source provider is not necessarily wise, said Kleeman. "It's like saying you will go to the same doctor forever, regardless of his or her expertise or your specific need at any given time. Would you go to a hand doctor if you had heart problems? No, you would go to a specialist. I don't want a doctor who can do everything. I want a specialist. From a procurement standpoint, a sole source provider is easier, but it's not the smartest thing you can do."
As budgets and headcounts in large CROs decrease, research and development increases, said Kleeman. "CROs have to become nimble enough to provide services pharma needs, and the old model of having a lot of employees sitting in an office is not going to do it."
WIN provides pharma companies access to those medical writing specialists. Kleeman has developed a database of expert medical writers that documents each writer's areas of expertise and number of projects written in those specific areas. MCC writers must pass a battery of writing and ethics tests before being accepted into the network.
Another way MCC is beating the big CROs is employee retention. While the average U.S. clinical research organization reports a problematic yearly turnover rate, MCC is at three percent. Since he started MCC, Kleeman said he's never lost a client and has lost only two writers. One took a tenure-track position at a Midwestern university, and the other started her own business.
"We treat clients and writers very well," he said. "We don't continually want to hunt down new clients and writers."
Kleeman stressed that from a procedure standpoint, MCC exists and interacts the same as the traditional model of having many writers on hand in one office setting.
"If you didn't know our structure, you wouldn't know our medical writers operate off site," said Kleeman. "We're as good on paper or better than our competitors. We function the same as any other CRO, but have less overhead. We are able to use the money saved from less overhead to hire the best medical writers while keeping our client pricing structure very competitive. Our system works, and works well, but we have to get people who operate under the old methodology to embrace the new way of doing things."
Sometimes a negative light shines on outsourced employees, he admitted. "But outsourcing in this kind of specialized field is a way of operating your business based on strategic alliances and not total overhead."
There is also a certain amount of freedom in being an outsourced expert, Kleeman said. American families today often need two incomes, yet know it's important for one parent to stay at home with children. Most of WIN's writers worked in the pharmaceutical industry and liked what they did, but wanted the freedom to exist on their own.
"From the writer's perspective, you can make some, if not more money than working at a large CRO, and have control over your schedule. If you want to take two weeks off for vacation, you can do it when you don't have a project underway."
A recent innovation MCC implemented is creating for a major pharmaceutical company an in-stream series of patient narratives during clinical trials. The FDA requires patient narratives to be included in applications, and medical writers used to wait until testing was complete before writing them up.
Once MCC writers had to create 3,000 pages of patient narratives on 600 patients in three weeks. "It caused a traffic jam at the end of the process," said Kleeman. "We could have easily saved two to four weeks in the development process. Now that we're doing the patient narratives in stream instead of at the end of the sequence, we've decreased our end time. It's become one of our normal operating procedures."
It also used to be that pharmaceutical companies owned nearly every part of drug development, from research and development to manufacturing and marketing. But some large pharmaceutical companies have embraced a 21st century philosophy of doing business over the past few years, moving from a fully-integrated pharmacy company (FIPCO) to a fully-integrated pharmacy network (FIPNet). FIPNet is the establishment of networks of independent companies to aid pharma in each step of drug and medical device development.
"All of them are doing it, whether they acknowledge it or not," said Kleeman. "Owning each step along the process proved to be expensive and time-consuming. Pharma companies want to get life-saving drugs and devices on the market faster in order to save more lives. But there is no room for error in this business. If you can improve a cancer patient's survival rate two to four more weeks with a new drug or device, it means everything for that patient to have that time to spend with his or her family."
About Medical Communication Consultants: Medical Communications Consultants (MCC) of Cincinnati, Ohio provides medical writing solutions to companies seeking Food and Drug Administration approval for new drugs and medical devices. As the only Clinical Research Coalition™ (CRC)™ in the industry, MCC provides expert medical writers through its Writer Initiative Network™ (WIN™), an alliance of screened and vetted medical writers whose expertise and experience are perfectly matched with the specific needs of each project. MCC's unrivaled structure allows it to seamlessly integrate into each client's processes, creating an efficient, scalable and affordable medical writing solution for every project.
Contact: Keith Kleeman
President
Medical Communication Consultants
455 Delta Ave. # 205
Cincinnati, OH 45226
(513) 891-2337
info(at)medicomconsultants(dot)com
###